Jimmy Carter's Grandson, Jeremy Carter, Dies At Age 28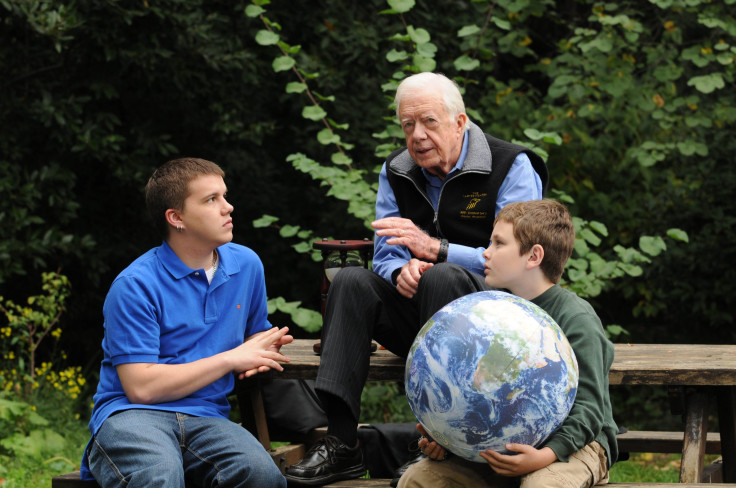 Former U.S. President Jimmy Carter's grandson, Jeremy Carter, died early Sunday. He was 28.
Jeremy Carter died at a hospital, the Atlanta Journal-Constitution reported. The cause of death remains unclear.
The former president shared the news with his regular Sunday-school class at Maranatha Baptist Church in Plains, Georgia. Jeremy Carter was feeling unwell Saturday and took a nap at his family's home in Peachtree City, Georgia, Jimmy Carter told churchgoers. When the young man's mother went to check on him, she discovered his heart had stopped, his grandfather said.
The death of Jeremy Carter came two weeks after the 91-year-old former president announced he was cancer-free. Jimmy Carter revealed in August doctors had found four small melanoma lesions in his brain. This month, the Georgia native happily informed the congregation at Maranatha recent scans revealed no signs of cancer.
Despite his grandson's death, Jimmy Carter appeared to share an optimistic message Sunday. "I should be joyful and thankful to God for giving me both life and freedom," he reportedly told churchgoers.
Parishioners told the Journal-Constitution they were unsurprised by Jimmy Carter's presence Sunday.
"That's the kind of Christian he is," church member Jan Williams said. "Everything that happens in life, good or bad, he uses as a teaching experience. He lives his life as a lesson for other people to see."
Jeremy Carter also sometimes attended the church in Plains.
"He's a great kid, it's sad," churchgoer Jill Stuckey told the Journal-Constitution. "Life's full of its ups and downs, and the Carters aren't immune."
© Copyright IBTimes 2023. All rights reserved.