Is Jinger Duggar Pregnant? New Photo Sparks Baby Bump Buzz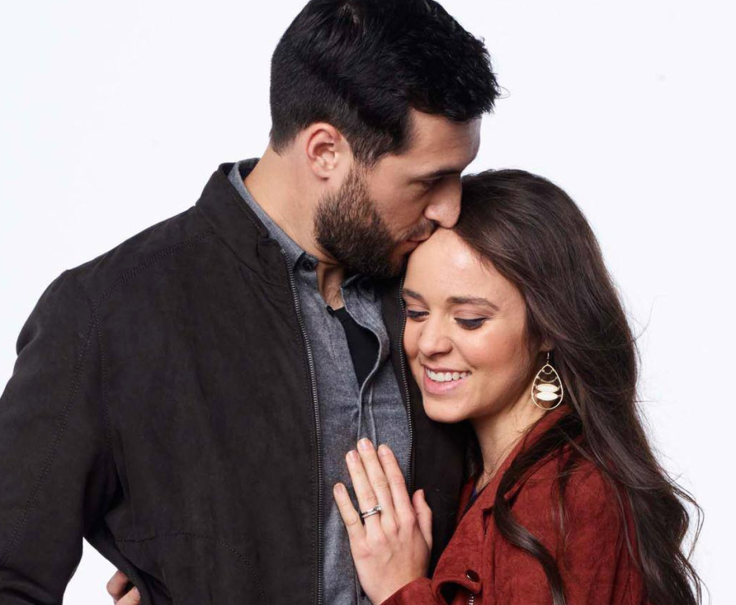 Jinger Duggar can't seem to escape rumors she's pregnant. A new photo of the "Counting On" star posted to her husband Jeremy Vuolo's social media accounts has fans of the TLC series speculating she's expecting her first child.
In the image, Jinger can be seen sporting a long coat that covers her midsection while posing with Jeremy and their friend, Pastor Michael Mahoney of Grace Community Church in San Valley, California. "Jinger and I couldn't be more grateful for our dear friend," Jeremy captioned the shot. While the reality stars made no mention of a forthcoming new addition to their family in the caption, that didn't stop fans from talking about a possible baby Vuolo.
"Jinger looks pregnant and covering up with a coat," one fan wrote in the comments. "Um she's obviously pregnant," another comment reads. "I think Jinger is pregnant for sure. She definitely looks pregnant in this picture," speculated one fan, another adding, "Yes, I can see a bump."
READ: 4 Signs Jinger Duggar Is Pregnant
"Counting On" fans even flooded Jeremy's Instagram page with questions about whether or not Jinger is expecting. "Is something hiding under that coat?" one fan questioned. "Is she or isn't she having a baby?" reads another comment.
While a majority of the comments were about Jinger possibly being pregnant, other remained remain unconvinced. "Why is everyone hell bent on her being pregnant? If she is, she is. If she isn't, she isn't. Let them enjoy being married," one fan wrote. "Not everyone wants to get pregnant right away," defended another. "Good grief they are a beautiful couple! If and when she is pregnant they will let the world know. Even then it is not our business," reads another comment.
The latest photo of the couple is far from the first time they've caused pregnancy buzz. A video of the pair from Jinger's sister Joy-Anna Duggar's wedding to Austin Forsyth late last month also had fans talking.
"It's really hard to believe that this day is here. Joy, just seeing you grow up and mature into a godly young woman and now seeing your love for Austin, we're so excited for you guys," Jinger said in the video, making no mention of a baby. Still, some fans still thought they spotted a bump in the footage.
After six months of marriage, it wouldn't exactly be surprising if Jinger and Jeremy did announce a pregnancy. After all, they have talked about their desire to start a family in the past.
READ: Joy Duggar Was Nervous 'Committing' Herself To Austin Forsyth
"We really are just looking to the Lord to see what he provides. We'll see," Jeremy said during an October 2016 "Counting On" special when he and Jinger were not yet married. Jinger followed up on Jeremy's comments on February, telling People Magazine they were leaving their family planning up to a "higher power."
"We are just enjoying our life together and we will see what the Lord does," Jinger said.
© Copyright IBTimes 2023. All rights reserved.