Jisoo Spotted At The Airport After Confirming Return To Blackpink Tour Following COVID-19 Bout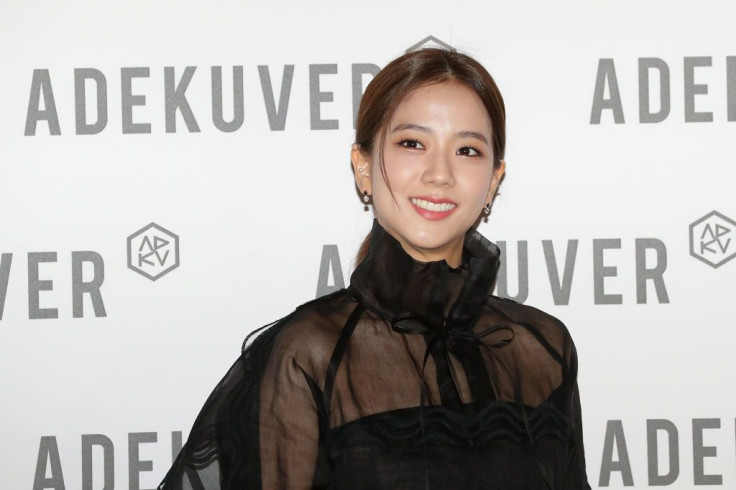 KEY POINTS
Jisoo has finally recovered from COVID-19 after testing positive
Jisoo assured BLINKs of her comeback to the concert stage
All members of Blackpink will be performing at "Born Pink" World Tour in Australia
Jisoo has been spotted at the Seoul Gimpo Business Aviation Center on Friday, following a week-long bout with COVID-19.
In a post on Weverse Wednesday, Jisoo personally updated Blackpink fans, known as BLINKs, about her health. She assured them that she has recovered well after testing positive for COVID-19 on June 1.
"BLINKs, what are you all doing? I'm all better now, and I'm healthy," she said, relieving fans who had been worried about Jisoo's condition.
On Friday morning, Jisoo was spotted at the SGBAC Airport, ready to travel to Australia for the next stop of the "Born Pink" World Tour. Jisoo will be joining Lisa, Jennie and Rosé.
Despite her recent health challenges, Jisoo appeared determined and excited about joining her fellow Blackpink members and delivering memorable performances for their dedicated fans.
Jisoo's COVID-19 announcement
BLINKs were disappointed when it was revealed that Blackpink's Jisoo had tested positive for COVID-19, leading to her skipping their two-night concert in Japan.
YG Entertainment, the agency representing the popular K-Pop group, announced last week that the 28-year-old singer had tested positive for the virus after experiencing mild cold symptoms.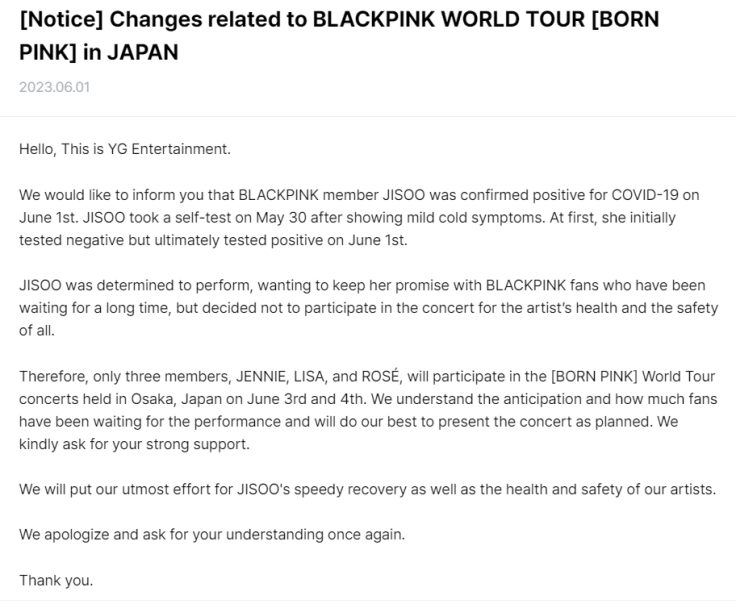 Jisoo is back on tour
Despite being sick, Jisoo kept fans updated on Weverse about her recovery.
On Wednesday, she responded to a fan asking if she'll be returning on tour and joining the next concert.
"Of course... I missed my Blinks so much," Jisoo answered. Her enthusiastic response lifted the spirits of fans and ignited excitement for their next concert stops.
"Flower" Power
Earlier this year, Jisoo's solo track "Flower" broke records and posted impressive streaming numbers. Within just 24 hours of its release, the music video for "Flower" garnered an impressive 40 million views and 4.8 million likes.
These numbers surpassed the initial predictions set before the release, leaving fans in awe of Jisoo's popularity. In fact, "Flower" became the most viewed and most liked K-Pop music video on YouTube within the first 24 hours of its release at the time.
Not only did "Flower" achieve remarkable success in views and likes, but it also ranked third on the list of most viewed videos by a solo K-Pop artist in the first 24 hours of release.
Jisoo, Jennie, Lisa and Rosé are scheduled to perform four concerts in Australia from June 10 to 17, 2023.
© Copyright IBTimes 2023. All rights reserved.