Joan Rivers Death: A Sad Ending To An Often Painful Life Story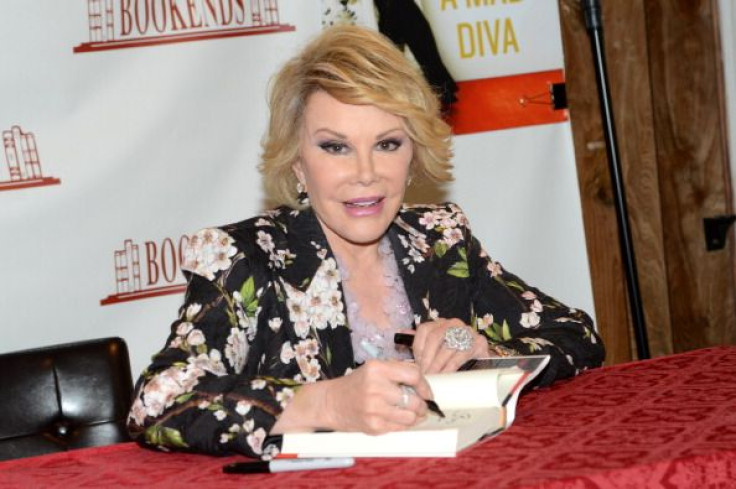 Joan Rivers' humor was not for the faint of heart, or the thin-skinned. The sometimes ruthless comedienne, who died on Thursday at the age of 81, took no prisoners when it came to put-down comedy; even a breezy stroll down the red carpet had the potential to become a roast when she was around.
You'd be understood for detecting a trace of bitterness in Rivers' outlook. She was as hardworking a performer as Hollywood has seen, and her success -- at least in her view -- never matched her ambitions. She didn't necessarily struggle for money, but she needed to work constantly in order to maintain a lavish lifestyle, which included a palace-like apartment in Manhattan.
"I live very well," she said in the 2010 documentary "Joan Rivers: A Piece of Work." "I enjoy my creature comforts, and I know I have to work for it." Insights in the documentary from people working for her suggested her financial situation wasn't quite as healthy as she thought it was, what with her expensive payroll and her generous support of friends and family.
Rivers was determined at a young age to be a successful performer. But as iconic as she was, her career had more than a few ups and downs, and even at age 75, she was scrambling for work -- taking low six-figure gigs on cruise ships -- to stay afloat in the lifestyle she'd grown accustomed to.
Rivers also faced an uphill battle being taken seriously because of her gender. While scores of male comics have made successful careers built on controversial, even offensive, humor, Rivers was discouraged from doing so from the start.
In "A Piece of Work," Rivers spoke about being warned by her manager early in her career to stay away from topics like abortion -- which she said she joked about at a time when most people wouldn't speak of it at all.
"You're going to places you should not go," Rivers said her manager told her. "It's not right. Women shouldn't talk about that."
But Rivers persisted, never compromising and never backing down -- even in the face of numerous setbacks and backlash from critics who thought she went too far. Still, she yearned for the kind of easy success that so many of her Hollywood peers took for granted.
"Nothing has ever come easily for me," Rivers once told the Cincinnati Enquirer. "My whole career has just been hard, hurting, little steps. "
And the pain wasn't only in her career struggles.
Her second husband, Edgar Rosenberg, father to daughter Melissa Rivers, was found dead by suicide in a Philadelphia hotel room in 1987, shocking his family who never saw it coming. Rivers acknowledged in an interview with the Los Angeles Times days after his death that he had become increasingly depressed since having a massive heart attack three years prior, but nothing could have prepared her for losing him. At the time, Rivers' secretary noted that "there was never a joke that was a put-down of Edgar" in any of Rivers' routines.
Still, once some time had passed, that tragedy too become fodder for jokes, proving that truly nothing was off-limits for the pioneering comedienne.
But Rivers didn't always revel in her status as a groundbreaker. In "A Piece of Work," she spoke about feeling resentful when younger female comics would gush over the paths she had paved for the next generation of comediennes. Rivers, who worked tirelessly and craved the spotlight until the very end, said that it felt like they were putting a premature expiration date on her.
"If one more comedian comes up and says to me, you opened the doors for me … you want to say 'go f--k yourself,'" she said. "I'm still opening the doors."
But now a door has closed.
© Copyright IBTimes 2023. All rights reserved.