Joan Rivers Tribute Special On E!: 'Fashion Police' Will Return In January, Says Melissa Rivers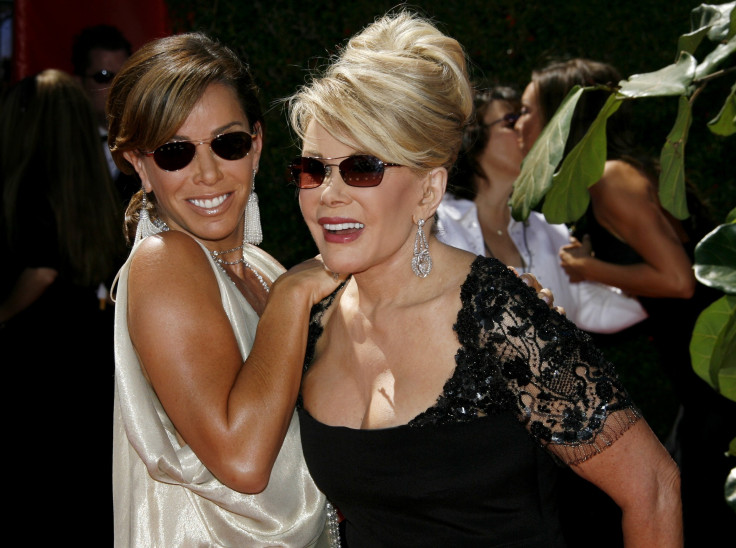 "Fashion Police," made memorable by Joan Rivers, will return in January, E! network and the late comedian's daughter Melissa Rivers, revealed Friday. The announcement was made during a 90-minute tribute special, "Fashion Police: Remembering Joan."
The network also announced in a statement that the decision was made after it "thought long and hard" about what Rivers would have wanted for the show. Rivers' daughter, Melissa, who is the executive producer of "Fashion Police," agreed with the network and made the announcement of the show's return during the tribute special. Rivers died on Sept. 4 after spending nearly a week on life support at New York's Mount Sinai Hospital. She was 81.
"Yes, Fashion Police will continue. We're going to hit pause for a little while, but Fashion Police will be back in January," Melissa said, according to E! News. "I really want to thank all of the Joan Rangers for the outpouring of love and support, it has meant so much to Cooper (Rivers' grandson) and me. From the bottom of my heart, thank you."
The network reportedly said in a statement that with Melissa's "blessing," the show will commence with coverage of the Golden Globes awards on Jan. 12.
"By remembering the incredible jokes, the unbelievable guests and all the moments ...that made 'Fashion Police' must-see TV. For the next 90 minutes, we're going to do what my mom loved to do most of all: laugh," Melissa said during the special, according to New York Daily News.
Melissa also reportedly revealed that she had received a hand-written letter from President Barack Obama, "someone who was often a target of her jokes, as was Mrs. Obama." According to Melissa, the note stated: "Not only did she make us laugh, she made us think."
Rivers suffered a cardiac arrest during a nonsurgical procedure at the Yorkville Endoscopy clinic in Manhattan, following which she was rushed to nearby Mount Sinai on Aug. 28. It was rumored that a physician did an unauthorized biopsy, which caused Rivers' vocal cords to swell and cut off her air supply. The clinic denied that any biopsy was performed.
The New York State Health Department is investigating the cause of Rivers' death.
© Copyright IBTimes 2023. All rights reserved.