Joaquin Phoenix Wows In 'The Master': A Timeline Of His Personal And Professional Ups and Downs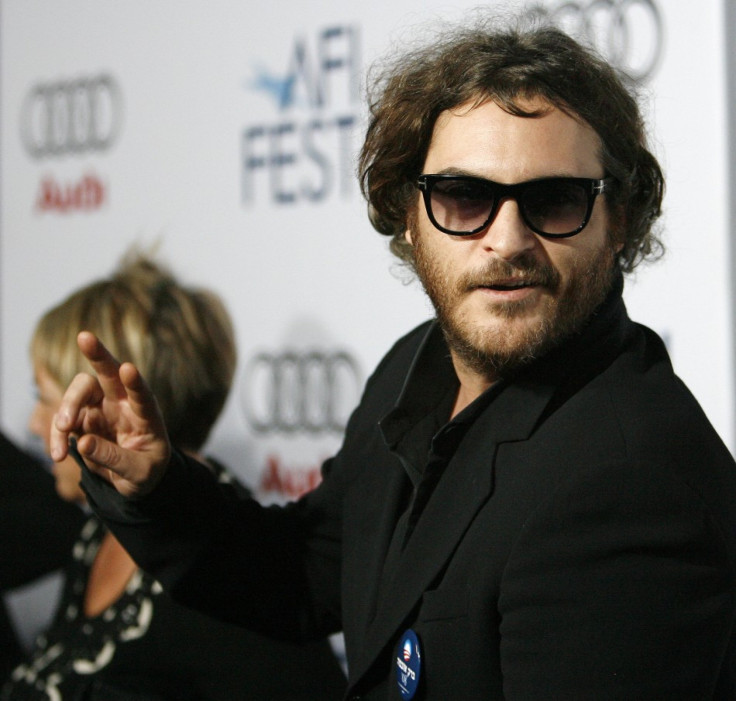 After a three year hiatus, Joaquin Phoenix is set to make what Time magazine is calling a "triumphant return" to film. The actor stars in Paul Thomas Anderson's controversial drama "The Master," a film believed to be inspired by the emergence of Scientology.
The 37-year-old is earning critical raves for his performance as Freddie Quell, a hard drinking World War II veteran who seeks guidance from a cult leader named Lancaster Dodd (Philip Seymour-Hoffman).
USA Today's Susan Wloszczyna writes that Phoenix "explodes on-screen in a redefining performance that could stand alongside those of the early Brando or De Niro in its physical audacity. In his first acting role after a two-year break, Phoenix rescues his reputation from the ashes of 'I'm Still Here.'"
The role marks a career high point for the actor-who has encountered his fair share of personal and professional woes.
Here's a look back and Phoenix's life and career.
1986: Phoenix makes his film debut in in film "Space Camp," under the name Leaf Phoenix.
October 1993: During a night out at the Viper Room in Los Angeles, Calif., his brother River Phoenix collapses. The then-19-year-old frantically dials 911 but paramedics are unable to revive the "Stand By me" actor. The New York Times reports that the 23-year-old overdosed on morphine and cocaine.
Phoenix decides to take a break from acting.
1995: The actor returns to the big screen as Nicole Kidman's teen lover in "To Die For." The film, which draws from the 1990 Pamela Smart murder case, earns favorable reviews. Phoenix reunited with Gus Van Sant, who directed him in 1991's "My Own Private Idaho."
Janet Maslin of the New York Times notes that his character Jimmy is "[r]ivetingly played by Mr. Phoenix with a raw, anguished expressiveness that makes him an actor to watch for, Jimmy is both tempted and terrified by Suzanne's slick amorality. In that, he speaks for us all."
2000: Phoenix stars as the noxious Commodious in Ridley Scott's "Gladiator." The role earns him an Academy Award nomination for Best Supporting Actor. His unexpectedly hilarious line in the film, "I am terribly vexed," becomes something of a catch-phrase.
April 2005: The actor checks into rehab for alcohol addiction.
People releases a statement from the actor's publicist, Susan Patricola, that states, ""He was uncomfortable with the way that he was living his life and found the courage to deal with the disease."
November 17, 2005: Phoenix stars as legendary country singer Johnny Cash in "Walk the Line." The actor, who sings and plays guitar in the film, earns rave reviews for his performance.
"Seeing Phoenix, you want to call 15 friends and say, 'Get ready,'" says USA Today's Mike Clark. "It really is the 'Gladiator' guy singing, with voice, demeanor, eyelids and chin combining for a dead-on Cash package."
The role earns him a Golden Globe Award for Best Actor.
March 5, 2006: Phoenix is nominated for his second Academy Award for "Walk the Line." He loses to Phillip Seymour-Hoffman for his performance as Truman Capote in "Capote."
October 28, 2008: While attending a benefit in San Francisco, Calif., Phoenix tells Extra that he's quitting acting.
"I want to take this opportunity ... to give you the exclusive and just talk a little bit about the fact that this will be my last performance as an actor," he says. "I'm not doing films anymore. I'm working on my music. I'm done. I've been through that."
January 2009: TMZ releases a strange video showing a disheveled Phoenix performing poorly executed rap music.
Entertainment Weekly's Josh Rottenberg reports that Phoenix's so-called rap aspirations are nothing more than "elaborate hoax."
The actor's publicist denies the claims, telling MTV News, "The transition from one career to another is never seamless. It should come as no surprise to anyone that Joaquin came from a musical family,in addition to winning a Golden Globe for his portrayal of Johnny Cash.... He intends on exploring his musical interests despite speculative, negative or positive reactions."
February 11, 2009: During a now infamous appearance on "The Late Show" Phoenix mumbles through much of his interview with a stunned David Letterman. The baffled talk show host drew audience laughter when he asked,, "What can you tell us about your days with the Unabomber?"
Sporting unkempt facial hair and dark sunglasses, the actor makes a series of puzzling comments. As the audience laughs uncomfortably, Phoenix asks, "What do you have them on? What do you gas them up with? Is this nitrous?"
The painfully uncomfortable interview concludes with Letterman quipping, "Joaquin, I'm sorry you couldn't be here tonight."
Later that year, Moviefone's Kevin Kelly dubs Phoenix's bizarre behavior the "worst perpetrated hoax in recent history."
May 2010: Deadline reports that Casey Affleck, Phoenix's brother-in-law, is shopping around a film based on the actor's rap music venture titled "I'm Still Here."
September 9, 2010: "I'm Still Here" hits theaters but fails to make an impact at the box office. According to Box Office Mojo the film earned a meager $408,983. Critics pan the head-scratching mockumentary.
"It's all tiresome, muddied and artlessly made," concludes Roger Moore of the Orlando Sentinel.
September 16, 2010: In an interview with the New York Times, Casey Affleck admits after two years of speculation that the film is indeed performance art.
"It's a terrific performance; it's the performance of his career."
September 22, 2010: Phoenix returns to "The Late Show" and apologizes for his behavior during his last appearance on the show. Letterman tells Phoenix that he feels he was "made a fool of" by the actor. The talk show host then asked Phoenix to cough up a million dollars in licensing fees for using clips of his "Late Show" appearance in "I'm Still Here."
September 8, 2012:, Phoenix wins the Best Actor Award at the Venice Film Festival for his performance in Paul Thomas Anderson's "The Master."
FOX news later reports that the actor's performance "has Oscar written all over it."
"The Master" opens in NYC and LA on Sept. 14.
© Copyright IBTimes 2023. All rights reserved.