Joe Biden, Kamala Harris Blast Trump For Invoking George Floyd's Name: 'It's Despicable'
KEY POINTS
President Trump said George Floyd would be happy about the decline in America's unemployment rate
Joe Biden and Kamala Harris slammed Trump for using Floyd's name to trumpet the latest job numbers
Biden said the unemployment numbers for African Americans and Latino Americans still remain high
Former Vice President Joe Biden blasted President Donald Trump on Friday (June 5) for invoking George Floyd's name while lauding the administration over the latest economic data.
"George Floyd's last words — 'I can't breathe, I can't breathe' — have echoed across our nation," Biden said during a speech at the Delaware State University. "For the president to try to put any other words in the mouth of George Floyd — is frankly despicable."
The killing of Floyd, the African American who died from asphyxiation while in the custody of the Minneapolis cops on May 25, triggered widespread days-long protests across the country against police injustice and racism.
During his press conference at the White House on Friday, Trump celebrated the latest job numbers showing that the unemployment rate in the U.S. is on a decline, with 2.5 million new jobs added in May, despite the coronavirus pandemic. The unemployment rate surprisingly fell to 13.3% from 14.7% in the last month amid projections by economists that the numbers will reach 20% for May.
"Hopefully George is looking down right now and saying, 'This is a great thing that's happening for our country,'" Trump said. "It's a great day for him, it's a great day for everybody. This is a great, great day."
Speaking hour after the Trump presser, Biden further shredded the president by pointing out that, despite the latest positive job numbers, African American and Latino unemployment rates continued to remain high.
The presumptive Democratic presidential nominee said that Trump failed to see that millions are still struggling. The African American unemployment rate is at 16.8% while the unemployment rate for white Americans is at 12.4%.
"I was disturbed to see the president crowing this morning — basically hanging a 'mission accomplished' banner when there is so much work to be done — and so many Americans are still hurting," the former vice president said. "More than 20 million Americans — one out of every seven U.S. workers — are still out of work."
Biden, however, acknowledged the 2.5 million new jobs as a reflection of American resilience in the face of a crisis.
Meanwhile, Sen. Kamala Harris, D-Calif., also criticized Trump for using Floyd to trumpet the administration's accomplishments.
"Keep George Floyd's name out of your mouth until you can say Black Lives Matter," the senator posted on her Twitter account.
In an interview to CNN on Monday (June 1), Harris said that Trump "combined the worst of George Wallace with Richard Nixon" and disagreed with his response to the ongoing riots and protests against Floyd's killing. The senator accused the president of sowing division among Americans.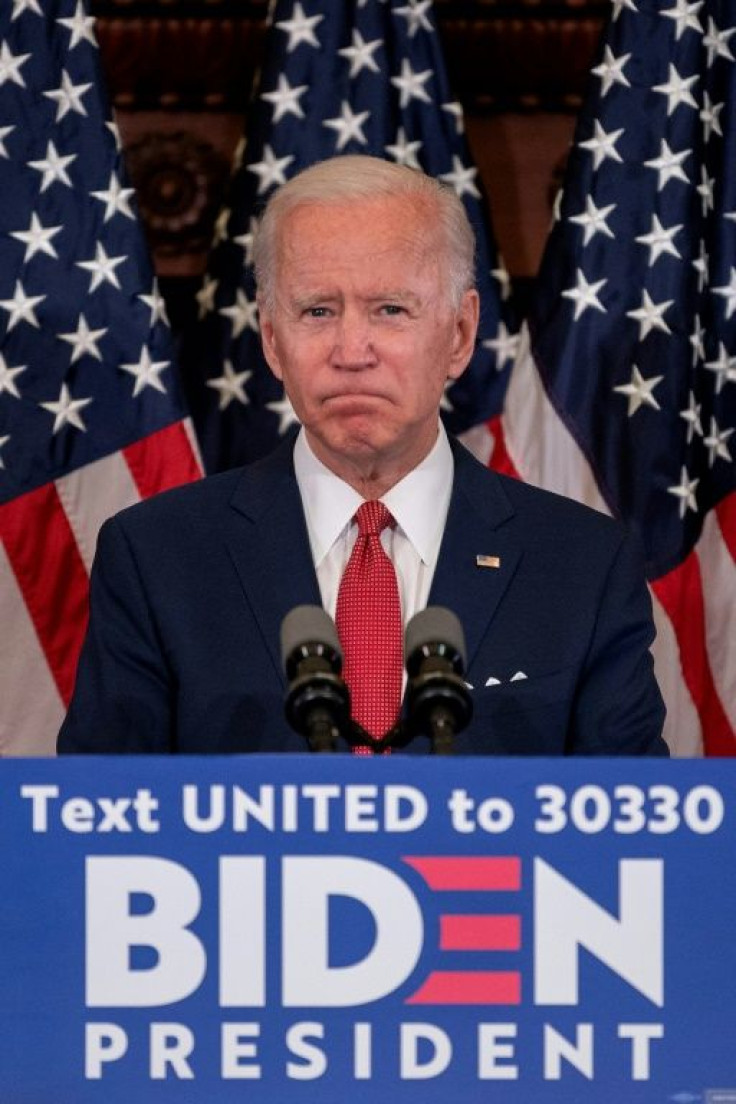 © Copyright IBTimes 2023. All rights reserved.