Joe Jonas Was 'Angry' With Diplo After Secret Wedding To Sophie Turner, Here's Why
Joe Jonas is not one to lie. So, when he was strapped to a lie detector for an interview with Vanity Fair, he didn't hold back.
Jonas and his wife Sophie Turner secretly got married in 2019, right after the finale of "Game of Thrones" was aired. Their first wedding was in Las Vegas and the couple — who wanted to keep it a secret — did their best to prevent any leaks to the public, but in vain. The couple's friend Dj Diplo ended up live streaming moments from the secret ceremony.
When asked whether he was "angry" with Diplo at the time, Jonas said "yes," but added that he no longer held a grudge against him.
When asked if Diplo could be trusted, the musician was in two minds. "Wow, with weddings? Probably not. In general, I think he can be trusted," he admitted.
The fun didn't stop there. When the singer was asked who according to him was the "best-looking" Jonas brother, he named his youngest sibling.
"Oh god, I'll go with Franklin Jonas, the youngest brother," he answered, but the lie detector revealed it was an "inconclusive" response.
Speaking about the height difference between him and his wife, Jonas said, "Me and my wife have this debate for a long time now that I like to make her mad by making her think that we're actually the same height. 'Cause, we're pretty close it when we're not wearing shoes."
This is not the first time Jonas has opened up about the wedding footage leak. He spoke about it on the radio show "Capital Breakfast with Roman Kemp" in 2019, reported Harper's Bazaar.
"He did ruin it. I love Diplo, but he loves his 'gram more than a 13-year-old. He, like, posts every five seconds. He literally live-streamed with dog face filters," Jonas said on the show.
But he added that he and Turner had no hard feelings against the DJ.
"We just laughed. We loved it," Jonas added. "We thought it was ridiculous. I just love that he was walking into the chapel and he's like, 'Gonna hit this wedding real quick.'"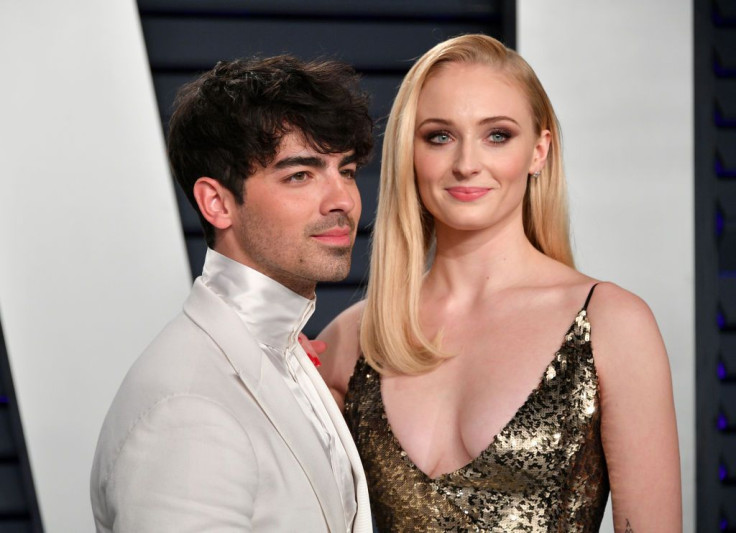 Meanwhile, Diplo also shared his side of the story, saying he had no idea the wedding was legitimate. "I didn't know it was a serious wedding! I really didn't know what was going on," Diplo said on "On Air with Ryan Seacrest." "I was hanging out with him after the Billboard Awards, I was just hanging out with him like, 'This is crazy, dude. Let me record this.'"
He then revealed that though he wasn't the only one to record moments from the wedding, he was the lone person to broadcast the couple's every move to his followers.
"There was mad people with cameras, I didn't know I was the only person recording this thing. I was sitting next to Khalid, we're both with our phones out. I was like, I had no idea that I was the only one doing it, but whatever," he explained.
© Copyright IBTimes 2023. All rights reserved.