John Cho turns up the raunch for new Harold & Kumar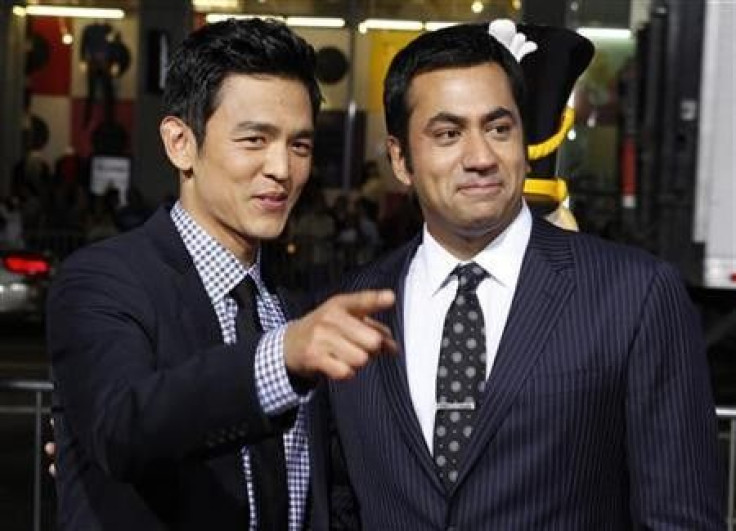 LOS ANGELES (Reuters) - John Cho reunites with Kal Penn for the third time to reprise their lovable stoner roles in A Very Harold & Kumar Christmas in 3D, which Cho says has perverted the Christmas movie -- albeit in a sweet way.
The film, which opens in theaters on Friday, finds Cho's Harold settling in to married life. On Christmas eve, a botched visit from Kumar results in another wild adventure involving mobsters, robots, Santa and Neil Patrick Harris.
Cho, 39, sat down with Reuters to talk about the film, fatherhood and, along with Harold, reprising his role as Hikaru Sulu in J.J. Abrams' next installment of Star Trek.
Q: Harold and Kumar films have always been politically incorrect and vulgar, but this feels like the raunchiest yet.
A: I do feel like we really pushed it this time. The Harold and Kumar universe gets away with a lot because they're well-intentioned, and I think people somehow know that. The movies are raunchy but those guys are pretty sweet. They kind of stumble into situations and react the way I think normal red-blooded American males would. So they somehow get a pass.
Q: Although it's billed as Christmas movie, it's not the kind one might expect.
A: We've perverted the Christmas movie, but we have also made an honest-to-goodness Christmas movie. We obey a lot of the rules of the Christmas movie universe -- Santa's the real deal, reindeer fly, gifts are given and miracles happen. Yes, we've degraded and debased the Christmas tradition, but in a way, we honor it.
Q: And it's the first Harold & Kumar film in 3D?
A: Hopefully people are inclined to go see it in theaters versus buying it on DVD. We have always been a DVD phenomenon, not a theatrical one, so I hope that changes with this movie.
Q: Kal Pen took a sabbatical from Hollywood to work for President Obama's administration. Did you guys keep in touch?
A: We kept tabs on each other and corresponded a little bit, but that time was strangely busy for everyone. I started a family and did (the 2009 film) 'Star Trek.' Neil Patrick Harris came out of the closet. A lot of real-life things occurred. But that made the whole advancement of the age of the characters more appropriate in this third movie.
Q: Your son is three-years-old. How is fatherhood?
A: I'm surprised by how much of their personality is programed. I sweated so much worrying about how I was going to shape him, but he is who he is without my help. It's fascinating.
Q: The next Star Trek goes in to production early next year. Will you undergo any sort of training?
A: Well I'm certainly not going to gain 50 pounds! That suit is snug!
Q: Who do people on the street associate you more with -- Harold or Sulu?
A: 'Harold and Kumar' in terms of affection. But 'Star Trek' gave me respect. That one-two punch has led people to call me John Cho on the street, instead of Harold or Sulu.
Q: You have three franchises to your name - Harold & Kumar, Star Trek and American Pie. Next summer you star in American Reunion. That's an impressive feat!
A: It's weird, I'll tell you that much. It's very unusual for this line of work. An actor's life is so nomadic, and to have three franchises where you come back and see the same people every few years, it makes me feel like a normal person.
Q: You recently wrapped shooting a new version of Total Recall with Colin Farrell and Jessica Biel. You're also on a roll with reboots!
A: I think that movie is going to be really good. The world is as extensive a world as I've seen in a movie. You'll be blown away. What they've done is remove the Mars element, so it's all on Earth. And that has given them license to really do fascinating things with the future -- future Britain, future Asia.
(Editing by Chris Michaud and Bob Tourtellotte)
© Copyright Thomson Reuters 2023. All rights reserved.