John Oliver On Confederate Flag: 'Why Was It Flying At Any Staff At All?'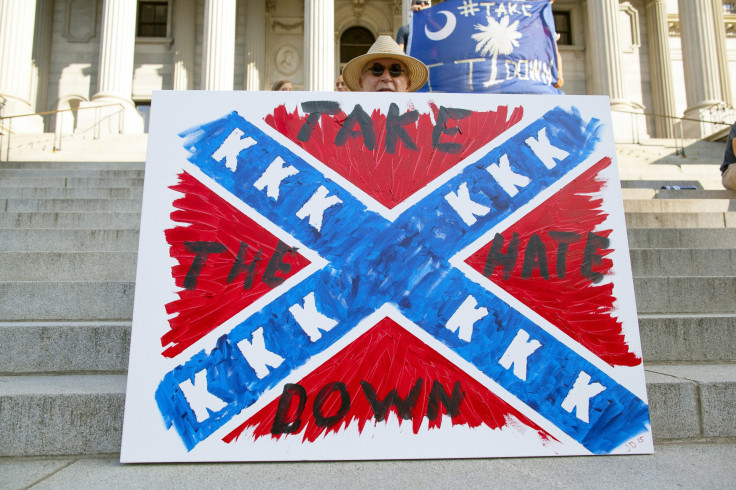 In Sunday's episode of "Last Week Tonight," host John Oliver had an idea about what to do with the Confederate battle flag, whose history is inextricably associated with racism and slavery: "Put it in a box labeled 'bad flag,' and put it where no one can see it."
For many, salt was added to the wound when the Confederate flag remained flying high above the South Carolina State House after Dylann Roof murdered nine African-Americans at the Emanuel African Methodist Episcopal (AME) Church Wednesday. The U.S. and South Carolina state flags were lowered to half-staff, but the Confederate flag was flying high because it requires a two-thirds majority vote in each chamber of the state assembly to move or remove it.
Some say that the Confederate flag is a merely a symbol of southern pride -- "heritage, not hate." But for scholar Matthew Guterl, a professor of Africana and American studies at Brown University, that heritage is hate.
"When someone says it's about history, well, that particular history is inseparable from hate, because it is about hate. It's about racism, and it's about slavery," Guterl told the Washington Post. He also said the flag was resurrected in the 1940s and 1950s as an explicit symbol of resistance against the civil rights movement.
"What was once a very blatant, full-throated defense of white supremacy has now become this gesture to heritage and history that is presented as though it has nothing to do with the civil rights movement. But it has everything to do with the civil rights movement," Guterl said.
His statement that the Confederate flag was used as a symbol against school desegregation during the civil rights era is echoed by Kareen Crayton, an associate professor of law at the University of North Carolina School of Law, in a New York Times op-ed piece.
Describing the "neo-Confederates" who have adopted the flag and who the Southern Poverty Law Center has designated one of many proliferating hate groups in the U.S., Crayton writes that they "lament the demise of the principle that made slavery possible – that some people are not created equal. Their aim is to reinstate that order, and their brand heavily relies on the rebel flag. Their headquarters are almost entirely located in the American South, with the largest number in South Carolina."
Sen. Lindsay Graham, R-S.C., has hesitated to call for the flag's removal, although he has stated that he would welcome debate about it. "This is part of who we are," he said. But Republican presidential candidate Jeb Bush said the flag should be put in a museum.
Given the Confederate flag's history and its use to symbolize resistance to civil rights, Guterl argues that "[I]t should surprise absolutely no one when people pick up on this and imagine that the South is still at war with the North over whether blacks deserve rights and representation or even life."
There's one silver lining, jokes Oliver, in the continued popularity of the flag. "The Confederate Flag is one of those symbols that should really only be seen on T-shirts, belt buckles and bumper stickers to help the rest of us identify the worst people in the world."
© Copyright IBTimes 2023. All rights reserved.
FOLLOW MORE IBT NEWS ON THE BELOW CHANNELS