Johnny Depp Indirectly Confirms Amber Heard Engagement, Wears Diamond Ring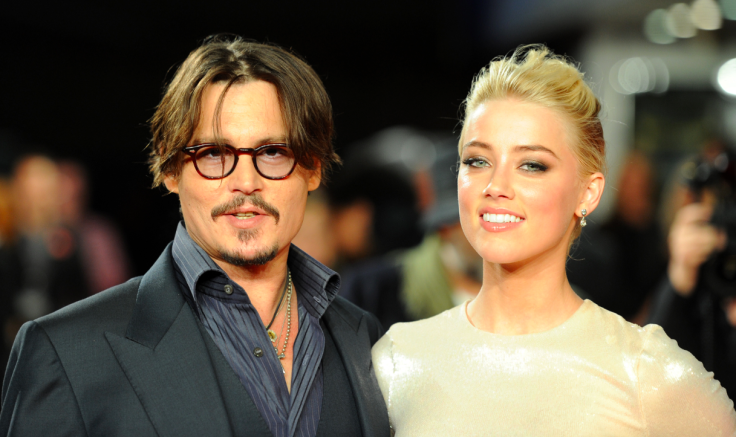 Johnny Depp doesn't usually open up about his personal life in interviews, but when he was asked about his rumored engagement to actress Amber Heard, the "Pirates of the Caribbean" star had a quirky response.
On Monday he was spotted wearing a diamond engagement ring that he called a "chick's ring." The Associated Press reports that when he was asked about his possible engagement he said: "The fact that I'm wearing a chick's ring on my finger is probably a dead giveaway. Not very subtle."
Depp reportedly chuckled and held up a single diamond that was surrounded by a band. A source reportedly told Us Weekly the ring he gave Heard was "too big for her, so he started wearing it."
It's been months since Depp and Heard have been reportedly engaged, but neither of them has directly confirmed the gossip. "I think that I would be better at making women's shoes than I would be at wedding planning, I can't plan anything. I'm really bad at that stuff," the actor said.
Heard and Depp had been dating for about a year and a half when reports began to confirm the two were engaged. It will be the first marriage for the 27-year-old Heard. Depp, 50, was married to Lori Anne Allison for two years in the mid-1980s. Though Depp was in a long relationship with Parisian actress/singer Vanessa Paradis, the two never wed despite having two children together. The two split in June 2012.
According to the AP, Depp was in Beijing to promote his new movie "Transcendence," where he plays a terminally ill scientist who downloads his mind into a computer. According to the Internet Movie Database, once his mind has been engrained into the computer it "grants him power beyond his wildest dreams, and soon he becomes unstoppable." Rebecca Hall plays his wife in the film, which is set premiere nationwide April 17.
"The technology that exists within the film, what I find most fascinating is that a lot of it exists already and by all accounts from scholars and professors and scientists, that species of technology is not far away, that kind of artificial intelligence," the AP quoted Depp saying in an interview.
"It's one of those films that one person is forced to make a choice in an instant, when your loved one is dying and you have a split-second decision if you have the ability to upload their consciousness into a computer, would you do that? It's quite a strange decision to make, but for love I think we would all do it."
Follow me on Twitter @mariamzzarella
© Copyright IBTimes 2023. All rights reserved.