Joshua's Rumored Model Girlfriend Spotted At SEVENTEEN Concert
KEY POINTS
SEVENTEEN held its "Follow" to Seoul concert on July 21 and 22 at the Gocheok Sky Dome
Joshua's rumored girlfriend was allegedly spotted in the invited seating area of SEVENTEEN's July 21 concert
Speculations about Joshua dating a model made rounds online because of their alleged couple items
SEVENTEEN embarked on a new concert tour, "Follow," and kicked it off in July in Seoul before taking the show to Tokyo, Saitama, Nagoya, Osaka and Fukuoka in Japan from September until December.
After dating speculations surrounding SEVENTEEN's Joshua and a mystery model surfaced following a fan tweeted side-by-side photos of Joshua and the mystery girl allegedly wearing the same pieces of clothing, a new video surfaced online allegedly showing the SEVENTEEN member's rumored model girlfriend watching the K-Pop group's concert.
In the clip, Joshua's rumored girlfriend, wearing a black top and white bottoms, was spotted cheering and waving her SEVENTEEN lightstick.
On Wednesday, a post on an online community in South Korea with the title "Joshua brought his girlfriend to the concert" went viral and was viewed over 401,955 times.
A screenshot of the video showing Joshua's rumored girlfriend turned heads. In the post, the uploader said that Joshua's rumored model girlfriend was at the table seat during the first day of SEVENTEEN's "Follow" to Seoul concert.
"He brought his girlfriend to the invitation seats. Things [are] getting exposed for the past [three] days," the uploader claimed.
In the viral online community post, one user shared a screenshot of a tweet showing Joshua holding a phone alongside a photo of the rumored model girlfriend.
The commenter claimed that Joshua was holding his girlfriend's phone in the picture he uploaded on the day of the concert.
Another user speculated that the table on the left side of Joshua's rumored girlfriend was for the SEVENTEEN members' dads. "... He even gave the best seat to his girlfriend," the user claimed.
In another viral post on the same online community, an uploader shared a different screenshot where Joshua was seen waving to the audience and captioned it with, "Look at Joshua and his girlfriend saying 'hello.' Hahahaha."
"Guys, watch the video. His girlfriend's friends were pointing at Joshua, telling her to look at him while laughing. It was legendary. The two even greeted each other at the same time," one user claimed.
"F—. This is the love of the century. What a tearjerker," commented another user. A different netizen stated, "They are so living in their own world."
"Wow. I thought there were already a lot of evidence, but they just keep on pouring," said another user.
Joshua's agency, Pledis Entertainment, has not denied nor confirmed the dating rumors surrounding the 27-year-old SEVENTEEN member.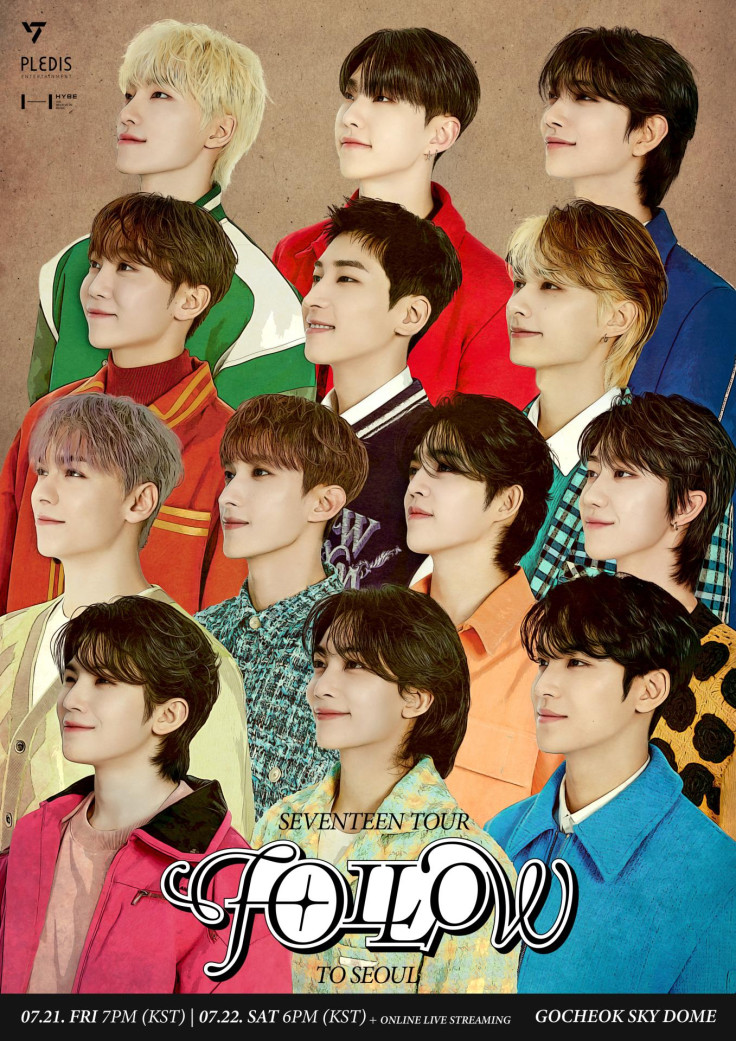 © Copyright IBTimes 2023. All rights reserved.