CARATs Reveal Proof SEVENTEEN's Joshua Is Dating A Mystery Model [Photos]
KEY POINTS
Joshua's dating rumors stemmed from alleged couple items he wore with a model
A screenshot of the viral tweet about the couple items was shared on an online forum
Netizens shared their thoughts about the alleged relationship of Joshua with the mystery model
Dating speculations surrounding SEVENTEEN's Joshua and a mystery model began after a fan tweeted side-by-side photos of Joshua and the mystery girl wearing the same pieces of clothing.
On Sunday, @EBulwer59117 tweeted photos of alleged couple items worn by the 27-year-old K-Pop idol and the unknown model. The tweet has since gone viral with over 2,100 retweets, 6,185 quotes, 1,100 likes and 1,800 bookmarks.
The uploader captioned the now-viral tweet, "Joshua, were you in the arms of another girl while I couldn't sleep because of you?"
The alleged couple items featured in the viral tweet included a Calvin Klein jacket, an Acmé De La Vie sweatshirt, a pink polo Joshua wore during a concert, a pearl necklace and a ring, among many others.
The uploader even pointed out the many similarities between the Calvin Klein jackets Joshua and the mystery model allegedly wore, highlighting the similarities in creases and color.
Fans quickly reacted to the post.
"[I] think the most important fact is that the girl posted pictures of 'similar things' earlier than Joshua. Therefore, we can't say that the girl is a fan of Joshua and is simply looking for the same clothes her idol had worn before...and I think the similar jacket is really a highlight," commented one fan.
The uploader posted a follow-up tweet featuring an original post by @smz momo, showing the dates the SEVENTEEN member and the mystery model allegedly wore their couple items.
In the pictures, Joshua and the mystery girl wore the same pieces of clothing in the same year but in different months, and the model, whose name has not been disclosed, was the one who wore the alleged couple clothes first.
The fan also pointed out the similar carpet seen on both posts by Joshua and the mystery model.
Meanwhile, another social media post claimed that Joshua and the unnamed model had gone on dates together and posted snaps online.
In the shared photos, Joshua and the model allegedly went on a date in July. Though the two did not have a picture together, eagle-eyed fans noticed the same fence in the photos posted on July 6 and 7, respectively.
The viral tweet was picked up and shared on an online forum, where other fans also reacted to the possibility of Joshua dating the mystery girl.
One said, "[It] feels unreal, but hey." Another asked, "Is dating a sin?"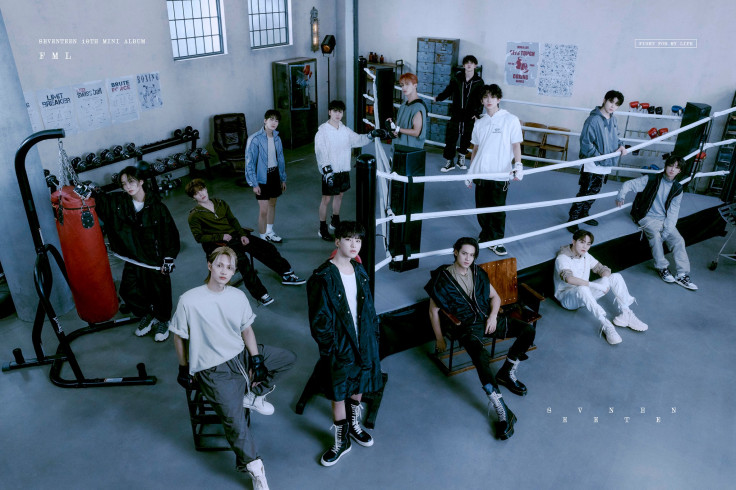 © Copyright IBTimes 2023. All rights reserved.