Judge Alito Mocks World Leaders, Dismisses Criticism Of Abortion Ruling; Twitterati Goes Berserk
KEY POINTS
Judge Samuel Alito's mocking commentary against world leaders drew criticism
His credibility to serve on the bench was questioned on social media
A video of his speech at a religious conference was posted online
In his first public comment since the leak of a draft that signaled the overturn of Roe v. Wade, a landmark 1973 decision that legalized abortion across the country, U.S. Supreme Court Justice Samuel Alito has mocked world leaders who criticized the ruling.
Alito took hits at British Prime Minister Boris Johnson, French President Emmanuel Macron, Canadian Prime Minister Justin Trudeau and Prince Harry. The speech was made on July 21 at a religious liberty conference at a law school in Rome, and the video was posted online Thursday followed by a public outburst.
"Alito proving in front of the world that the right-wing Supreme Court justices are nothing more than political hacks unfit to serve on the bench," tweeted a pro-Democrat account.
"Alito doesn't even pretend to be a judge anymore. He is a religious zealot--using his power to impose his beliefs on everyone else. In a functioning democracy, that would be cause for removal--because he does not follow his oath of office," tweeted another.
"Totally normal for a Supreme Court justice to openly mock world leaders. Alito is entirely drunk on power. Judicial modesty is dead," read another tweet by Harvard's Cyberlaw Clinic's Instructor Alejandra Caraballo.
"Extreme Court Justice Sam Alito is in Rome whining about how there's 'hostility to religion' You better believe there's hostility to your crazy a-- religion when you try to shove it up our v*****s. Women and girls are dying and this ChristoFascist hack is cracking jokes overseas," read another tweet.
Politician and activist Alexandria Ocasio-Cortez weighed in by writing -- "Remember: it was Alito's opinion that leaked. That fact paired with his politicized remarks below should be alarming to anyone. The Supreme Court is in a legitimacy crisis. Chief Justice Roberts has a responsibility to share the progress & results of SCOTUS' leak investigation."
Another user responded to her tweet -- "Alito has no place on the Supreme Court and neither do the other Christian Fascist Domestic Terrorists."
"Alito is an embarrassment to the Supreme Court. He's unfit for responsibility and too shallow to make sound decisions. The Supreme Court requires wisdom and its majority scorns it," responded another.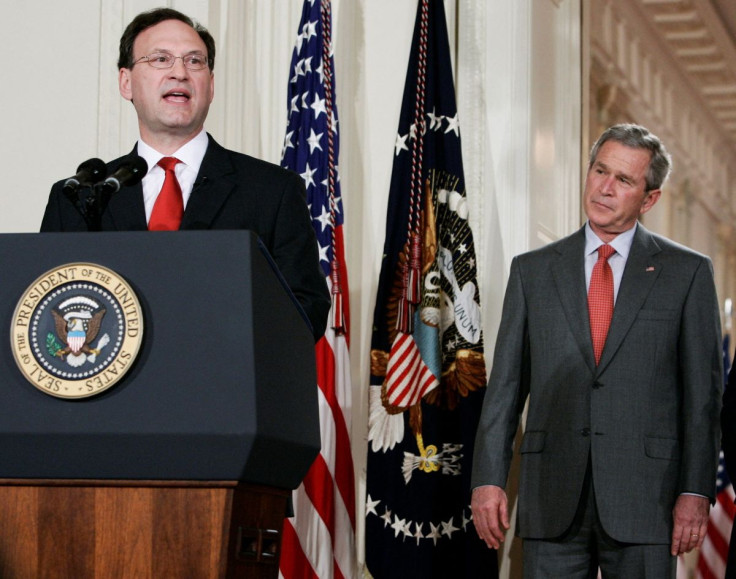 © Copyright IBTimes 2023. All rights reserved.