Judge Assigned To Disney's Lawsuit Against DeSantis To Be Replaced By Trump Nominee
KEY POINTS
Mark Walker said his decision was not due to impartiality as DeSantis' camp claimed
Allen Winsor, who will replace Walker, was dubbed "brilliant" by ex-Florida AG Pam Bondi
DeSantis wants to lift Disney's virtual autonomy in Florida's theme park district
The judge in the lawsuit filed by Disney against Florida Gov. Ron DeSantis has disqualified himself from the case, and will be replaced by one nominated by former President Donald Trump.
Judge Mark Walker wrote in a court filing Thursday announcing his self-disqualification from the case because "a relative within the third degree" held Disney shares, and may be affected by the lawsuit's outcome.
Walker went on to explain DeSantis' reason to ask for his disqualification from the case wasn't why he recused himself from the case.
"For the reasons that follow, Defendants' motion is DENIED. Nonetheless, I find disqualification required for a different reason," he wrote in the filing.
DeSantis' legal team had filed a motion to recuse Walker from the case, arguing "the court's impartiality in this matter might reasonably be questioned" due to the latter's reference to the entertainment giant as an example of state retaliation in separate, unrelated cases.
Walker said DeSantis' claims about impartiality were "meritless" and his reason for disqualifying himself in the case would be over conflict that may arise from his relative's connection to Disney.
The Disney vs. DeSantis case will now be handled by Judge Allen Winsor, who was nominated by Trump to the U.S. District Court for the Northern District of Florida in 2018, Insider reported.
Former Florida Attorney General Pam Bondi had referred to Winsor as a "brilliant" and "humble" individual.
"I think we're lacking a lot of that in our country in our judicial system," Bondi said after Winsor's nomination.
Disney sued DeSantis late in April, alleging the Florida governor's bid to take over the theme park district was part of "a targeted campaign of government retaliation."
The lawsuit followed DeSantis' efforts to strip Disney of its virtual autonomy in the Walt Disney World district that the company has had for over a century.
The governor has threatened to turn the land near Walt Disney World into a state-run facility.
"People have said maybe create a state park, try to do more amusement parks. Someone said another state prison. Who knows? The possibilities are endless," he said in April.
The entertainment company has since canceled plans to establish a new employee campus in central Florida, citing "considerable changes" since the plan was first announced, including "changing business conditions."
Disney CEO Bob Iger has insisted the DeSantis administration was retaliating against the company for "taking a position about pending legislation," according to USA Today.
Iger was referring to the company's decision to speak out against Florida's HB 1557 law that critics called "Don't Say Gay." At the time, Bob Chapek was the CEO.
"Florida's HB 1557, also known as the 'Don't Say Gay' bill, should never have passed and should never have been signed into law. Our goal as a company is for this law to be repealed by the legislature or struck down in the courts, and we remain committed to supporting the national and state organizations working to achieve that," a spokesperson for Disney said in a statement.
Winsor's entry into the case comes at a crucial time in DeSantis' political journey as he sets his eyes on the 2024 election.
Recent polls show that Trump maintains a comfortable two-digit lead over DeSantis, and critics, as well as the former president, have continuously been raising concerns about the Florida governor's likability.
Bess Levin, Vanity Fair politics correspondent, wrote that among the reasons why DeSantis may be struggling to get as much support as Trump was the "extremely stupid fight with Walt Disney" as well as his seeming obsession with attacking the LGBTQ+ community.
There have also been concerns about his aloofness and seeming dislike of social events such as meet-and-greets or question-and-answer sessions.
Meanwhile, the two GOP frontrunners continue to work on their campaigns, as Trump was in Iowa and DeSantis appeared at New Hampshire on Thursday.
The two Republicans delivered contradicting statements about how much time a leader needs to carry out a lasting conservative agenda, CNN reported.
DeSantis said an effective agenda needs two presidential terms or eight years to be completed, while Trump said he only needed six months.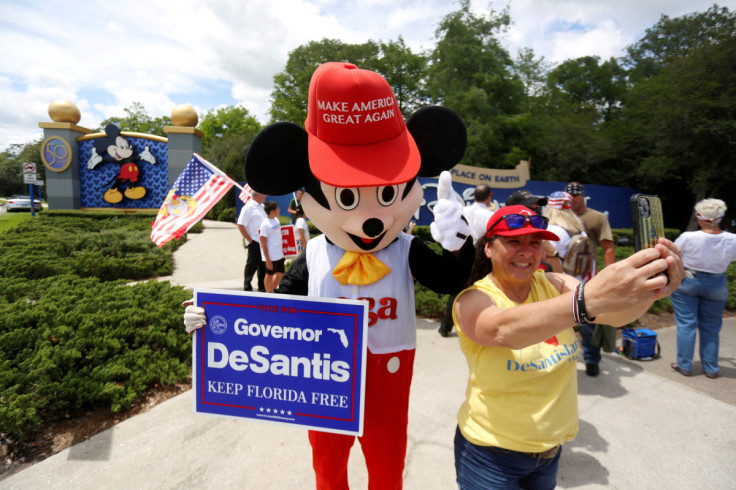 © Copyright IBTimes 2023. All rights reserved.