'Jurassic World' Actor Chris Pratt Spoofs Bryce Dallas Howard's High Heel Sprint In Movie On 'The Late Late Show'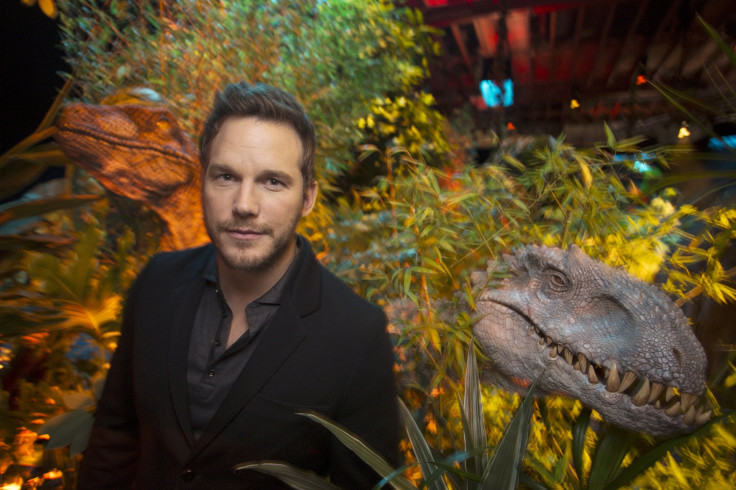 Usually the comic foil in "Guardians of the Galaxy" or "Parks and Recreation," Chris Pratt plays a very serious trainer and former Marine named Owen in the new "Jurassic Park" sequel. But between the moments of dinosaur antics and destruction, there are a few moments of absurdity in "Jurassic World." One is the scene in when the iconic T. rex makes its grand appearance, chasing Claire (Bryce Dallas Howard). Ever the practical sort, Claire is running full speed ahead in high heels ahead of the carnivorous dinosaur.
The moment stuck with "The Late Late Show" host James Corden, who decided to bring the scene up when Pratt, Howard and co-star Jake Johnson stopped by the show. Corden not only shared how impressed he was with Howard's high-heeled sprint, he challenged Pratt to do the same.
Pratt, who had never run in heels before (so he says), skittered around the stage and kept his balance remarkably well in a pair of red-heeled shoes. Shame there wasn't space enough for the two co-stars to race to see who could run fastest in heels.
Although poking fun at the absurdity of Claire's fashion and potentially fatal predicament, director Colin Trevorrow has had to contend with charges of sexism levied against "Jurassic World." Most famously, the director came under fire from Joss Whedon, who called the characterization of the movie's two leads "sexist."
Despite receiving an apology later from Whedon, Trevorrow agreed the "Firefly" and "Avengers" director had a point. Saying he sympathized with how Whedon perceived an out-of-context clip, Trevorrow said his movie "starts with characters that are almost archetypes, stereotypes that are deconstructed as the story progresses."
"Jurassic World" stomps into theaters June 12.
Watch Chris Pratt take on James Corden's "Jurassic World" high-heel challenge on "The Late Late Show":
© Copyright IBTimes 2023. All rights reserved.