'Just One Kiss' Hallmark Movie Premiere: Trailer, Synopsis, Cast
Hallmark Channel's spring lineup of new "Spring Into Love" movies continues with the premiere of "Just One Kiss." The film, starring Krysta Rodriguez and Santino Fontana, airs on Saturday night.
The film will be a huge treat for Hallmark fans, as it will be the first time they have seen either actor on the network, though they're likely familiar with both and their array of talented work. Rodriguez is previously known on-screen for roles as Ms. Crumble on "Daybreak," Summer Henderson on "Trial and Error" and Ana Vargas on "Smash." She is also known for credits on Broadway, which included roles in shows such as "Good Vibrations" and "Spring Awakening."
Fontana, also a Broadway vet, might be recognizable for roles such as Boise on "The Marvelous Mrs. Maisel" and Greg Serrano on "Crazy Ex-Girlfriend." However, many likely recognize his singing voice, which will also be on display in this film, because of his role voicing Prince Hans in the Disney film "Frozen."
In addition to the treat of seeing both in their first Hallmark film and hearing them sing, fans will also be treated by the supporting cast, which includes Ileana Douglas ("Goliath"), Aida Turturro ("The Blacklist"), Ava Grace Cooper ("When Calls the Heart") and Alice Rose ("Eight Gifts of Hanukkah.")
So what can expect from the story in this film? Let's find out.
"Mia (Rodriguez) is a college literature professor starting a new chapter with her 11-year-old daughter Rosie (Cooper) as her marriage is coming to an end," a synopsis reads. "Tony (Fontana), a happy bachelor, is a popular headliner in a Manhattan supper club whose smooth renditions of timeless standards have gained him loyal fans."
"One day, Mia's mother Marlene (Douglas) and Tony's mother Sofia (Turturro) witness their daughter and son's chance encounter at a showing of a classic, black-and-white movie at the local theater and start to hatch a plan," the synopsis continues. "The matriarchs decide to join forces for a little matchmaking, even cleverly orchestrating Mia's move into an apartment in Tony's building so they can continue to run into each other."
As the two continue running into one another and start spending time together, both with Mia's daughter and Tony's niece (Rose), things seem to be going well for them as a couple, and their meddling moms. However, things aren't quite as easy as they hope in the end, with Mia's ex arriving on scene to complicate matters—though hope still remains that the pair will find their way.
"Each of them is still recovering from past heartbreak, but it could be that just one kiss will lead them down the path to happily ever after," the synopsis teases.
"Just One Kiss" premieres Saturday, April 2 at 8 p.m. EDT on Hallmark Channel.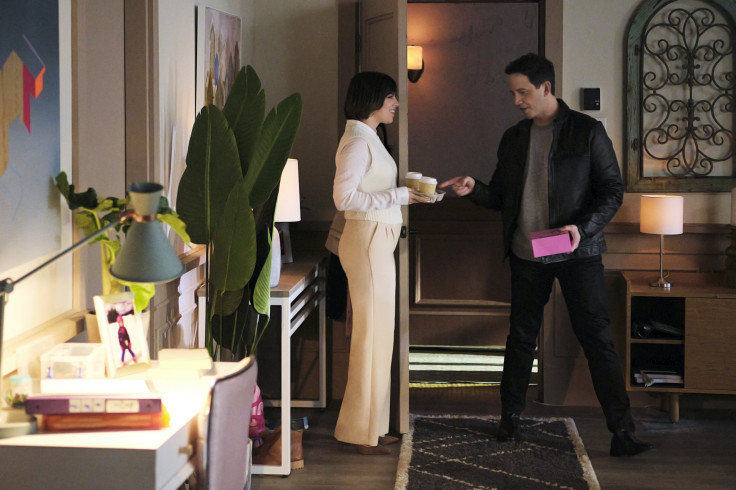 © Copyright IBTimes 2023. All rights reserved.