Justin Bieber Battery: Why Were The Cops Called On JB?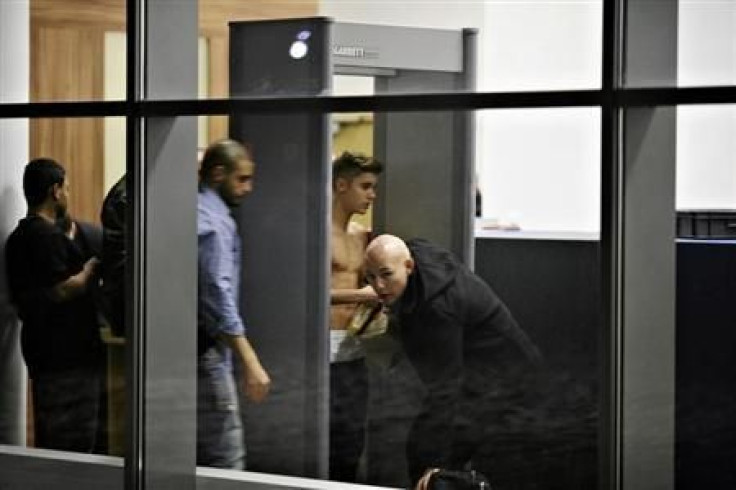 Justin Bieber's seems to have carried his questionable behavior from Britain back to the States as troubles mount for the "Baby" singer.
Bieber, who was two hours late for a March 4 concert and got into a fight with British paparazzi, now is being investigated for battery after one of his Calabasas, Calif., neighbors called the police on him.
The 19-year-old singer got into an intense argument with a male neighbor around 9 a.m. on Tuesday, TMZ reported.
According to Los Angeles County sheriff's spokesman Steve Whitmore, who spoke to TMZ, the accuser told deputies Bieber physically assaulted him and threatened him, hence the battery report.
No charges have been filed against the Canadian pop star, Reuters said, but Whitmore would not give details since the case is still under investigation.
TMZ first reported that the neighbor started the argument with JB over a loud party, but later updated the story to reveal the fight was about a Ferrari, at least according to a source who spoke to TMZ.
After the vehicle was delivered to his house on Monday night, Bieber was apparently racing his new toy up and down the streets.
The insider added the neighbor was furious about the noise and dangerous speeds Bieber was driving. Once he confronted the pop phenomenon, a screaming match supposedly ensued.
Looks like he won't be asking him for sugar anytime soon.
JB has not publicly commented on the reported altercation with his neighbor.
It's not the first time the superstar has been accused of battery, the Huffington Post reported. Moshe Benabou, a bodyguard who said he worked for Bieber, filed a complaint against him and is seeking $421,261 for assault, battery and overtime fees. A photographer accused the Biebs of battery in May, but the charges were dropped after investigation due to overall lack of evidence.
Bieber's been having a rough time ever since he split from Selena Gomez after rumors of infidelity on his part began to surface. Gomez's career has since flourished; she recently picked up a Kid's Choice Award for Favorite TV Actress, while Beiber has been getting tons of negative press. Their relationship has been compared to Justin Timberlake and Britney Spears, whereas cheating Spears fell apart post-spit, and Timberlake prospered.
© Copyright IBTimes 2023. All rights reserved.