Justin Bieber Booed At Billboard Music Awards 2013: Is The Backlash Beginning? [VIDEO]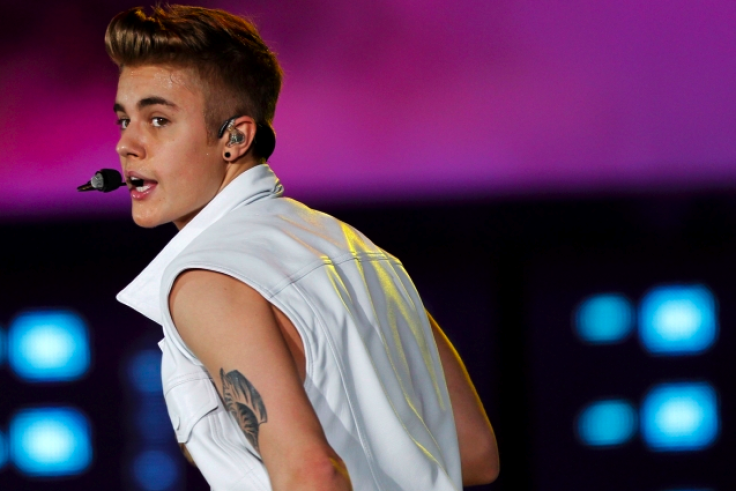 Justin Bieber, 19, was booed at the Billboard Music Awards 2013 as he was accepting his third trophy of the night. Boos rained down on Bieber as he was trying to give an acceptance speech for the "Milestone Award," which was voted on by fans.
Bieber had a busy night at the Billboard Music Awards 2013, aired live on ABC on May 19, winning three awards, "Top Male Artist," "Top Social Artist" and the new "Milestone Award," which celebrated an artist's ingenuity and chart success, while also performing twice, including an appearance with Will.i.am on "That Power." As Bieber was announced as the "Milestone Award" winner, a chorus of boos could be heard greeting the singer.
Bieber addressed the booing from the crowd and stated that he wanted to be taken seriously as an artist. Bieber was chosen over Taylor Swift and Bruno Mars and he received plenty of applause when his name was announced. As the cheers and the screams of "Justin" subsided, there was a small but vocal contingent that booed Bieber.
While Bieber's behavior has always been scrutinized, he's had a particularly rough patch in the past few weeks. Bieber was attacked by a fan at a recent concert in Dubai and, prior to that, police found marijuana on the singer's tour bus in Sweden. Bieber's "Monkeygate" also got an update as the monkey he left in Germany, Mally, will stay in the country and Bieber will have to pay for housing the monkey at an animal shelter, reports the Telegraph. Bieber's previous comments about Anne Frank being a possible "Belieber" also drew plenty of controversy.
Despite the criticism and headlines involving issues outside his music career, he said at the Billboard Awards, "I'm an artist and I should be taken seriously, and all this other bull should not be spoken." On Twitter, Bieber didn't comment about being booed at the Billboard Awards, simply saying, "2 performances and 2 awards. Grateful to my #Beliebers. Our awards. Love u."
Video of Bieber being booed during his acceptance speech for the "Milestone Award" can be viewed below.
© Copyright IBTimes 2023. All rights reserved.
FOLLOW MORE IBT NEWS ON THE BELOW CHANNELS