Justin Bieber Rocks Mexico, Serenades Crying Fan in Monterrey [PHOTOS & VIDEO]
Justin Bieber spent the weekend rocking Mexico and making dreams come true for his devoted fans on the first leg of his sold-out My World South America Tour.
Fans of the Canadian superstar helped him track down a Mexican mega fan, Debhani Guzman, who missed out on tickets to his concert. The girl was featured in a television news segment (below) where she was seen lying on the ground, bawling and screaming about the Biebs. When Biebier saw the footage, he knew he had to get the girl tickets.
The 17-year-old star put out a call though Facebook and twitter to find the girl and his fans actually tracked her down. The lucky fan got to be the One Less Lonely Girl at his Monterrey concert.
Biebs later wrote on Facebook:
incredible fans. u all came together and helped us find her. sweet girl. she said 'things like this don't happen to me'... well now yes they do. Dream Big and Never Say Never. thank you.
But it wasn't just the fans that Biebier was thanking in Mexico. He also thanked all the haters at a press conference in Mexico City.
I'm myself no matter what people think of me or say about me, he said. I've got a lot of haters--on You Tube, on Twitter, Facebook. There's a Facebook group, 'I Hate Justin Bieber.' But, at the end of the day, it's like 'You're promoting me. You're letting people know about me.' There's over a million people in this group that are just talking about me so I must be doing something right to get that much recognition. And so, I say 'thank you' to my fans and 'thank you' to my haters.
An impressively mature answer for a 17-year-old!
Biebier also used to press conference to tout his upcoming Christmas album Under the Mistletoe, which will be released in 15 days on iTunes.
Next, it's off to Brazil where Biebier plays Rio de Janeiro on October 5.
Here's a look at the complete tour:
September 30th - Monterrey - Mexico
October 1st and 2nd - Mexico City - Mexico
October 5th - Río de Janeiro - Brazil
October 8th - São Paulo - Brazil
October 10th - Porto Alegre - Brazil
October 12th and 13th - Buenos Aires - Argentina
October 15th - Santiago - Chile
October 17th - Lima - Peru
October 22nd - Bogota - Columbia
October 24th - Quito - Ecuador
October 25th - Caracas - Venezuela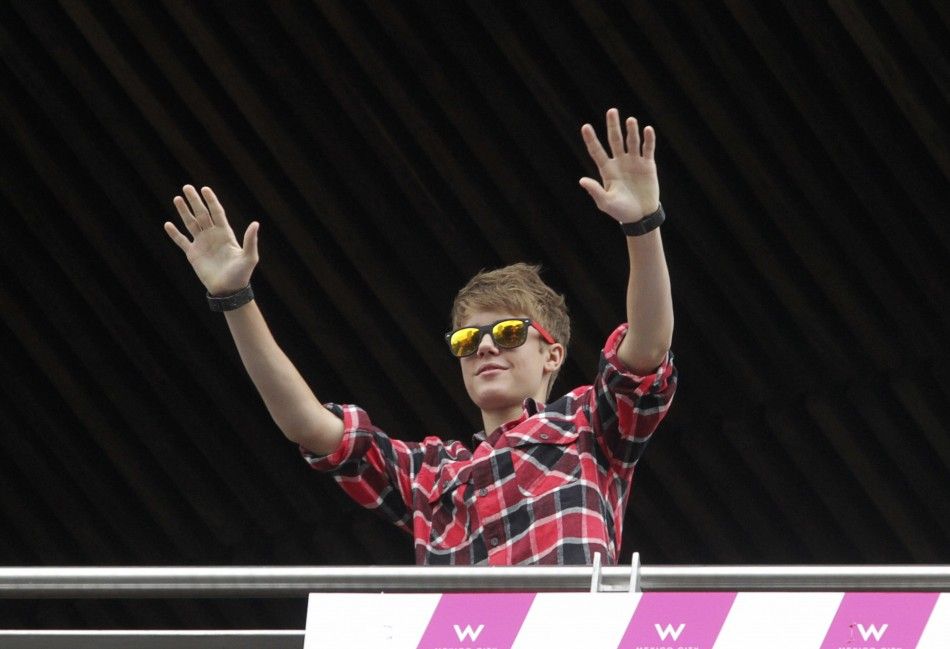 © Copyright IBTimes 2023. All rights reserved.