Justin Timberlake Defends Miley Cyrus' Twerking: 'It's The VMAs. What Did You Guys Expect?'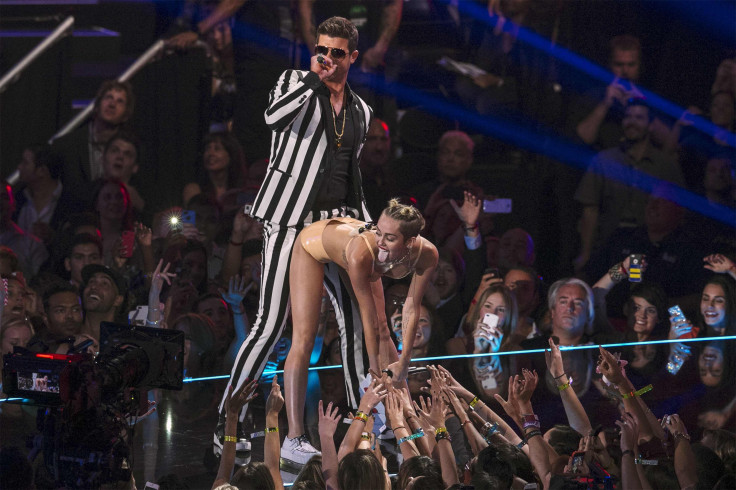 Miley Cyrus may have shocked the world with her "twerking" and revealing outfit at the MTV Video Music Awards Sunday, but at least one performer from the awards show is defending her. VMAs veteran Justin Timberlake has rushed to Cyrus' defense, stating that her provocative dance with "Blurred Lines" singer Robin Thicke was all just a bit of fun for the camera.
In an interview with New York's Fresh 102.7 on Tuesday, Timberlake said the 20-year-old Cyrus was just being a young girl.
"I like Miley. I like her a lot," Timberlake said. "I think, you know, she's young. She's letting everyone know that she's growing up. I just think it's the VMAs. It's not like she did it at the Grammys. Let her do her thing. You know?"
Timberlake also pointed to the risque nature of past VMA performances to show that Cyrus' gyrating wasn't all that shocking or unexpected.
"Listen, man, you know, it's the VMAs. What did you guys expect?" Timberlake continued. "Madonna: Wedding suit, humping the stage. Britney: Strip tease. This is not an uncommon thing. I actually thought all the bears were really cool!"
Still, while Timberlake said Cyrus' performance was fine with him, he had more fun watching reactions to her twerking than to the dancing itself.
"My favorite part of the Miley Cyrus performance is the Smith family reaction," he said, referring to a picture of Will Smith and his children looking shocked in the middle of Cyrus' dance. "I was late to the game on that. I was just shown that this morning, so it was fresh in my mind."
© Copyright IBTimes 2023. All rights reserved.