Kamala Harris' Dancing In The Rain Video Goes Viral; Netizens Applaud Her Moves
KEY POINTS
Social media users praised Kamala Harris' dancing in the rain video
She was filmed dancing at an outdoor campaign event in Jacksonville, Florida
Many applauded Harris' attire in the viral video
Democratic vice-presidential nominee Senator Kamala Harris (D-calif.) sent many people into a frenzy after a video of her dancing in the rain went viral on social media.
While attending an outdoor campaign event in Jacksonville, Florida on Oct. 19, Harris urged the voters to cast their ballots early because "you will very likely determine the outcome of this election." As soon as she finished her speech, the vice-presidential candidate was seen grooving to the music while holding an umbrella amid the downpour.
The clip, which was originally posted on The Recount's official Twitter account, took social media by storm as many users showered Harris with praise for her dance moves. Many said that this might be the best thing that they have seen on the internet in recent times.
One user said that he will repeatedly watch the video and will be voting for Harris and Joe Biden in the upcoming election.
"Your love of life is contagious. Thank you for this. I saw the video of you dancing and it made me forget about trump the whole time. I may have to run it on a loop for a couple of weeks bc he is going all out to be as crazy as he can be. Biden/Harris 2020. I voted and tracked it!" the user wrote.
Another user compared Harris' dance to Gene Kelly's legendary performance in the movie "Singing In The Rain."
"Gene Kelly singing in the rain. @KamalaHarris dancing in the rain," @AnthonyDoheny tweeted.
Similarly, another netizen said that seeing her 4-year-old daughter dancing along with the vice-presidential candidate brought tears to her eyes and noted that Harris is a "strong role model" for future leaders.
"Seeing my 4-year-old daughter dance along and smile to this [video] brought tears to my eyes. My god, it feels good to have a strong role for these future leaders," @KassandraVictoria wrote on the micro-blogging website.
The video garnered 2.3 million views on Twitter in just 48 hours after it was uploaded.
Many also applauded Harris' fashion sense and said her Converse collection is absolutely mind-blowing. In the clip, she dressed in her signature attire by wearing a navy-blue coat, white top and matched it with a pair of black jeans and Chuck Taylors.
"The confidence of #KamalaHarris in that jacket with her converse on is off the scale. No dress. No high heels. This is a woman who means business," @GrandpaJem wrote.
"The semi-casual dress tells me two things. You are one amongst us, but also, you are the one to assist in leading. Much love to you and your impending success!" @TheSilverCerbe1 stated.
Harris also posted a photo from the event and captioned it, "Rain or shine, democracy waits for no one." The photo has gained more than 156,000 likes and 18,000 retweets since its upload.
Harris is the first Black woman and first Asian-American woman to be selected as the vice-presidential candidate of a major party in the United States.
Here are some more Twitter reactions: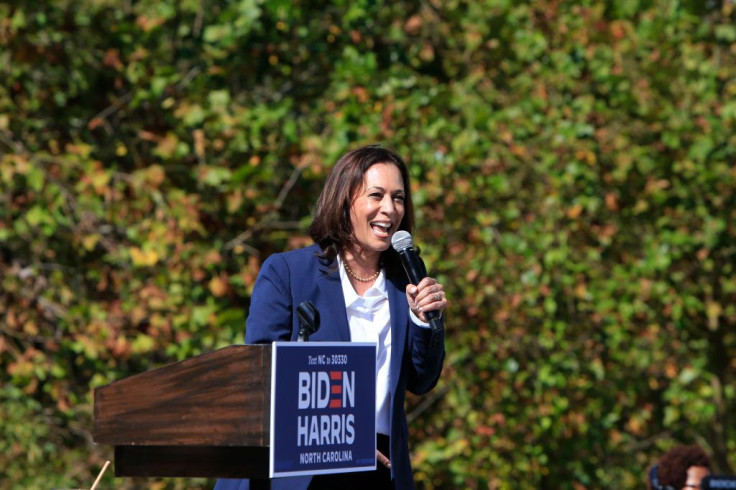 © Copyright IBTimes 2023. All rights reserved.