Kamala Harris, Husband Doug Emhoff Give Healthcare Workers A Valentine's Day Surprise
KEY POINTS
Kamala Harris and Doug Emhoff gave healthcare workers at a Washington, D.C., veterans' hospital a Valentine's Day surprise
The vice president and second gentleman gave the first responders baskets of cookies Saturday
Emhoff shared a photo from their surprise visit on Instagram and Twitter
Kamala Harris and her husband, Doug Emhoff, showed their appreciation to healthcare workers at a Washington, D.C., veterans' hospital this weekend with a special Valentine's Day surprise.
The vice president and the second gentleman made a surprise visit to the D.C. Veterans Affairs Center Saturday and met Denis McDonough, the newly confirmed secretary of the Department of Veterans Affairs, and his wife, Kari. Harris and Emhoff, both 56, gave essential healthcare workers baskets of cookies during the unscheduled trip, People reported.
Each cookie was wrapped and came with a note from the vice president and her husband, saying, "Have a sweet Valentine's Day! We appreciate you. Kamala & Doug." The McDonoughs, meanwhile, handed out cups of coffee to the healthcare workers.
Harris also told the doctors and nurses that they were "grateful" for them and all the work they do, per People.
Emhoff later shared a photo from their surprise visit on his Instagram account. In the snap, he and his wife are both wearing black masks and are each holding a basket of treats.
"This Valentine's Day weekend, our hearts are with the health care heroes working around-the-clock to support our country during this difficult time," the second gentleman wrote. "I'm so glad Veterans Affairs Secretary Denis McDonough and Kari McDonough could join us as we thanked the hardworking staff at the DC VA Medical Center."
Emhoff's post received praise from his followers, who thanked the couple and sent their love to the VP and second gentleman in the comments section.
"Love you guys," one Instagram user commented. "Such a great idea love you," another wrote.
"It is so nice to see them in office, it's nice to see compassion and care instead of hate, I feel like we are drug addicts that are trying to recover after 4 years of toxicity," another wrote.
Emhoff also shared the same photo on Twitter, which Harris retweeted.
"Best Valentine's gift ever. thank you for honoring our #FirstResponders this weekend. There not ebony chocolate or flowers on earth to give them. They are the heartbeat of the #COVID19 #pandemic response. Thank you #medicalworkers #doctors #nurses #EMTs," one Twitter user commented.
Another tweeted, "this is adorable and it's wonderful to put DC veterans and healthcare workers in the spotlight."
In related news, Harris' stairs cardio workout recently made headlines after a video surfaced on social media showing the vice president running up and down the steps at the Lincoln Memorial last week in exercise gear. While she was also accompanied by her husband, it was the Secret Service agent who joined her in running up and down the stairs in a black suit who garnered social media attention.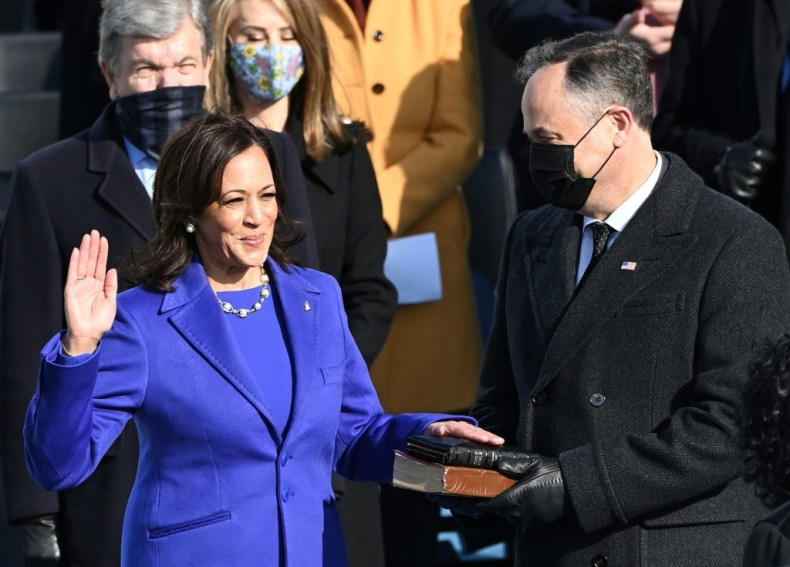 © Copyright IBTimes 2022. All rights reserved.