Kanye West For President Gear You Can Buy Now: T-Shirts, Pins And More For His Alleged 2020 Run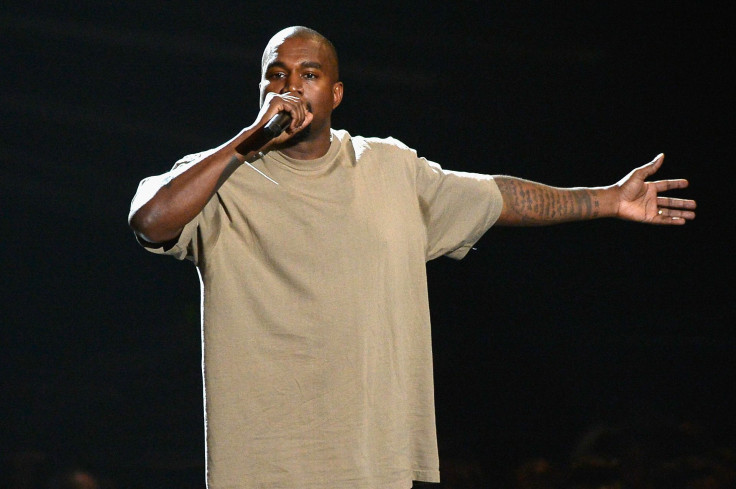 Forget about the 2016 United States presidential election. All eyes are on 2020 after Kanye West announced he will be running for president in five years. The 38-year-old rapper made the statement while on stage accepting the Michael Jackson Video Vanguard Award at the 2015 MTV Video Music Awards in Los Angeles Sunday night.
After talking about some of his controversial moments and distaste for award shows, West wrapped up his nearly 13-minute acceptance speech by revealing to the crowd that he's ready to head to the White House.
"I have decided in 2020 to run for president," he said, dropping the mic.
It's unclear if he was serious, but as CNN senior media correspondent Brian Stelter noted, KanyeForPresident.com was registered earlier this year. It is unconfirmed if the domain name was bought by West or a third party. Meanwhile, his wife Kim Kardashian's family has thrown their support behind him. Sister-in-law Khloé Kardashian tweeted a photo of West in front of the American flag with the text, "Mr. West for president." Kourtney Kardashian shared another photo, this one of the three famous sisters in front of the White House. "Keeping Up With the Kardashians Season 427: White House Edition," the text read.
You don't have to be a Kardashian to back Kanye West's potential future endeavor. There is already plenty of gear and merchandise available for purchase:
CLOTHING
Options abound for those who want to wear their support for West. Etsy users are selling multiple styles, from sweatshirts that say "Mr. West 2020" under the rapper's face," to a simple "Kanye West '20" T-shirt. You can click HERE to check out some of the offerings. West's merchandise website has yet to start selling its own official campaign tee.
ACCESSORIES
Those who collect presidential campaign pins won't want to miss out on this one. You can campaign for West wherever you go with Etsy seller TheMoochRoom's "Kanye West 2020" button badge. Meanwhile, seller OvercastWeather has keychains and necklaces available for those who don't like to make holes in their clothing or bags.
DECALS
Your support for Kanye West doesn't have to be limited to your body. Etsy user OriginalLimited is selling "Kanye West For President" decals for your vehicle. Maybe wait awhile to buy one of these, though. The seller warns that the decal has a four-year outdoor life, which means it might wear out a year before the elections, a crucial campaign time.
© Copyright IBTimes 2022. All rights reserved.
FOLLOW MORE IBT NEWS ON THE BELOW CHANNELS