Is Karen Pence White House's Response To Military's Sexism, Photo Scandal?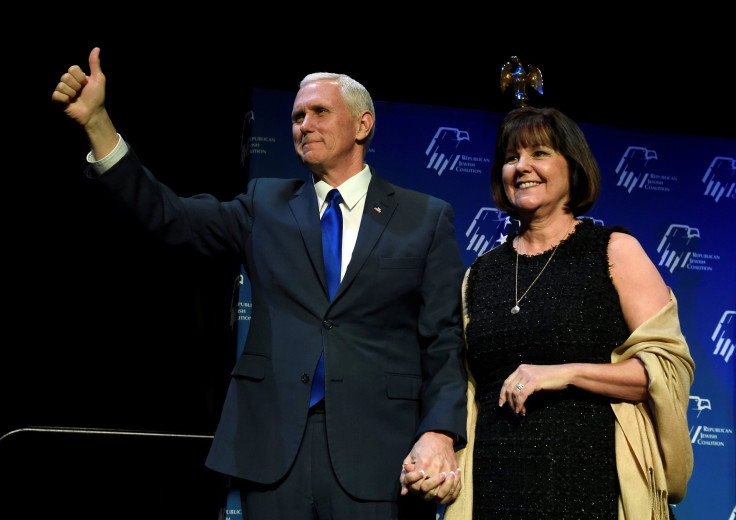 Though the White House had remained silent on the nude photo and video-sharing scandal that's engulfed the Marine Corps and the military's other branches, President Donald Trump's administration may have reportedly found a spokesperson to show appreciation to women in the military: second lady Karen Pence.
The wife of Vice President Mike Pence, who recently made waves after reports surfaced about how he conducted himself when his wife wasn't around, had made the rounds at events in the last couple of weeks to express gratitude and support to both women in service and the sacrifices made by military families. She did so even though the White House had stayed away from the scandal that's resurfaced accusations of a sexist or misogynistic culture in the military.
Read: 5 Things To Know About Karen Pence
However, Karen Pence did not directly address the scandal or the heavy criticism during those appearances, Military Times reported.
Pence, herself a military mother with her son, second lieutenant Michael, attended and spoke at two events in honor of women's history month late last month each focused on military women and their families and spouses.
While at the Naval Observatory on March 23, Pence hosted some three dozen service members and spoke of her talks with women in military three days prior at Fort Meade in Maryland. She told the audience how they conveyed the challenges she said they faced.
"They shared with me some of the reasons why they went into the military," Pence said. "They shared with me some of the things they love about being in the military [and] some of the struggles of being a woman in the military."
Then on March 27, Pence headed to Meridian Naval Air Station in Mississippi to thank the women in service, while calling them "home front heroes." The base is also where her son is stationed.
"I think it is important to let these ladies know we support you," Pence said. "We are here for you and it is O.K. to ask for help. Not even just help. It is nice to be with other spouses who are going through the same thing and just go out and have fun."
While the sincerity of Pence's comments has not been questioned, some have criticized the Pentagon's and the White House's response to the scandal. A spokesperson for Pence declined Military Times questions about what Pence said, if anything, to the female service members in regards to the scandal.
Read: Trump's Trust Language Was Changed
"As a female veteran and survivor of military sexual trauma," a spokesperson for veterans and military families group Common Defense, Trina McDonald, said. "I struggle with the second lady thanking me for my service, while Vice President Mike Pence and President Donald Trump are doing nothing to fix the problems that me and other women in the military face."
© Copyright IBTimes 2023. All rights reserved.