Kate Middleton, Meghan Markle Will 'Grow Closer' After Royal Birth, Expert Says
Kate Middleton and Meghan Markle are expected to grow closer after the Duchess of Sussex gives birth in the spring of 2019.
Katie Nicholl, a royal expert, said that the two female royals will soon get to bond over motherhood and parenting. While speaking on Channel 5's one-off documentary "Kate V Meghan: Princesses at War?" Nicholl said that the arrival of Markle and Prince Harry's baby this year will be exciting.
"Meghan having a baby will change the dynamic. They'll both become moms and that changes everything," she said.
"Screaming baby at two in the morning – who would you ask? You'd ask your sister-in-law who'd been exactly the same with many years of experience," Nicholl added.
Victoria Arbiter, a royal commentator, also said that Markle's baby's arrival will help the royal family move on from their rumored feuds. Even though it has been revealed that Markle and Middleton have already patched things up, there has been no word about Prince William and Prince Harry reconciling.
Kensington Palace previously denied the rumors of a feud, but royal fans were convinced that the siblings were at odds with each other when they seemingly ignored each other on Christmas Day.
According to Arbiter, the royal couples would be working together for many years to come so everyone will eventually get over themselves and move on once the baby arrives.
Middleton will also inspire Markle to continue working and contributing to the royal family regardless of how many children she will eventually have.
"Kate wasn't a career woman, her priority was William – it always has been. But Kate has grown into the role that she's now in – a mother, a dutiful wife," Nicholl said.
In related news, author and journalist Eve Pollard said that Markle and Prince Harry's parenting style will be different from Middleton and Prince William. She said that it is possible for the Duke and Duchess of Sussex to carry their baby in a sling around Prince Harry's neck.
Middleton and Prince William's children were pushed in large prams when they were still babies.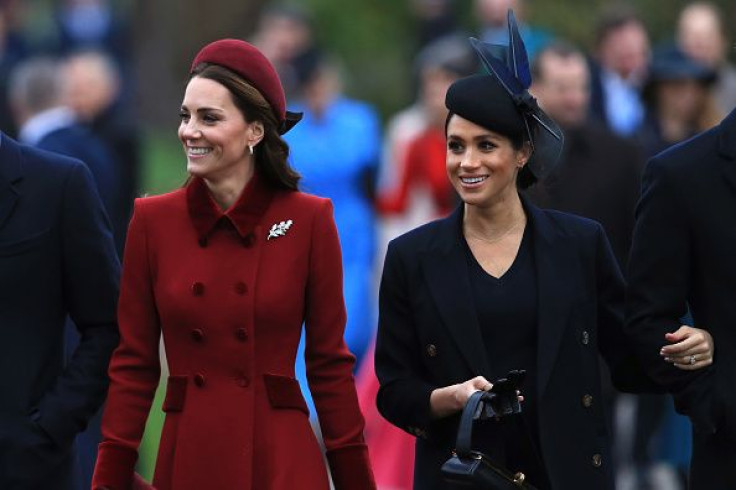 © Copyright IBTimes 2023. All rights reserved.