Kate Middleton, Prince William Royal Wedding: 5 Surprising Details That Most Missed
Kate Middleton and Prince William's big day included some details that many people may not have noticed.
The Duke and Duchess of Cambridge's royal wedding in 2011 was like a fairytale. It was very glamorous from the bride and groom's gown and uniform to their guests' wardrobe.
Millions watched the event on TV. However, there were tiny details that most probably missed, check it out here.
1. The best man is a bit limp
Prince William chose his younger brother to be his best man on his most special day. The Duke of Sussex appeared a bit limp while walking during the occasion. It was later learned that it was because he went home at 3 a.m.
Prince Harry reportedly exited the nuptials-eve festivities at the Goring Hotel by jumping out of the hotel's balconies. He landed badly on his ankle which explained why he walked that way.
2. Bright pink wiggly worm
Although Prince Harry wasn't in his best shape during Prince William and Middleton's royal wedding, he did his role as a best man well. According to Camilla Parker Bowles, he brought a pink wiggly worm to keep the children entertain and behaved during the photo shoot.
Camilla's granddaughter Eliza loved it so much that she wouldn't let go of it. As a result, the pink wiggly worm made it into Prince William and Middleton's official royal wedding photos.
3. Royal grumpiness
After the ceremony, the royals arrived at Buckingham Palace where the bride and groom gathered on a balcony to greet the public where they also shared a kiss. Grace Van Cutsem, Prince William's goddaughter, who was only 3 years old at the time was not amused at the noise. Grace stole the show with her scowl while covering her ears.
4. New nugget
The royals have a tradition of including a nugget of Welsh gold in their wedding rings. However, Prince William and Middleton's wedding bands were made of a different nugget because there wasn't enough left of the original nugget for the Duke and Duchess of Cambridge.
5. Early birds got the good seats
Prince William and Middleton's wedding guests were instructed to arrive at the venue in as early as 8:15 a.m. for the 11 a.m. ceremony. Even famous guest including Sir Elton John, and A-list couple David and Victoria Beckham arrived hours earlier.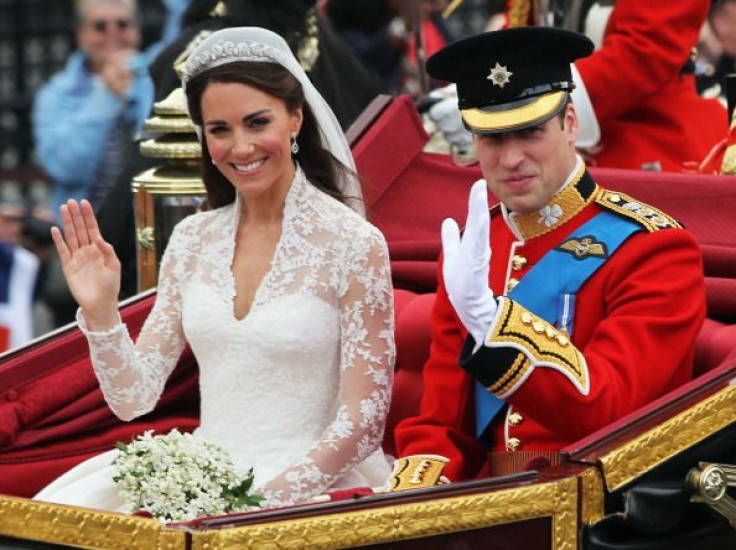 © Copyright IBTimes 2023. All rights reserved.