Kate Middleton, Prince William's 'Loveliest Moment' During 2011 Royal Wedding Revealed
Kate Middleton and Prince William's royal wedding was packed with special moments but one scene was deemed the "loveliest."
In 2011, the Duke and Duchess of Cambridge tied the knot. Their wedding ceremony was watched by billions of people worldwide. According to Neil Swan, who scored an invite to the event, there were a number of intimate moments at the event, but there was a particular instance he found the "loveliest."
"I think one of the loveliest moments was when Kate and William were taking their vows," the chief executive of Starlight, one of Prince William and Middleton's charities, told Marcia Moody in her book "Kate: A Biography."
"Inside the abbey there was absolute silence and total air on solemnity as they said 'I do'," he added. "But of course it was being broadcast live to the crowds, and we heard this huge roar from outside."
According to him, the guests' faces inside the abbey cracked into huge smiles as they listened to the bride and groom's vows. Prince Harry who was the best man was very involved in the event.
The Duke of Sussex surprised his brother and sister-in-law by arranging a short drive back to Clarence House in his father's beloved open-top Aston Martin Volante. The Duke and Duchess of Cambridge were very delighted when they saw the car decked out in balloons, red white and blue streamers and a JU5T WED number plate.
However, many noticed that Prince Harry appeared a bit limp while walking during the occasion. It turned out that it was because he went home at 3 a.m. after attending the nuptials-eve festivities at the Goring Hotel where he jumped out of the hotel's balconies to exit the celebration.
According to Katie Nicholl in her book "Harry: Life, Loss, and Love," despite his condition, Prince William's younger brother happily took on the role of being the master of ceremonies and made sure that everyone was having a great time. He even bought a wiggly worm toy to keep the children amused and behaved during the photoshoot.
Camilla Parker Bowles said that her granddaughter Eliza loved the pink toy so much that she wouldn't let it go. As a result, it made into Prince William and Middleton's official photographs. One shot featured the Duchess of Cornwall holding Eliza's hand and in the child's other hand was the toy worm.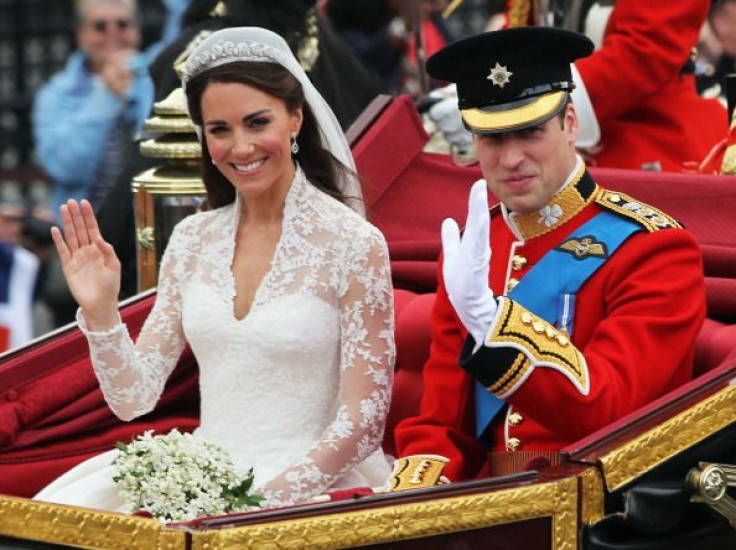 © Copyright IBTimes 2023. All rights reserved.