Kate Middleton Shows 'Polite Concern' To 'Anxious' Camilla During Royal Outing: Body Language Expert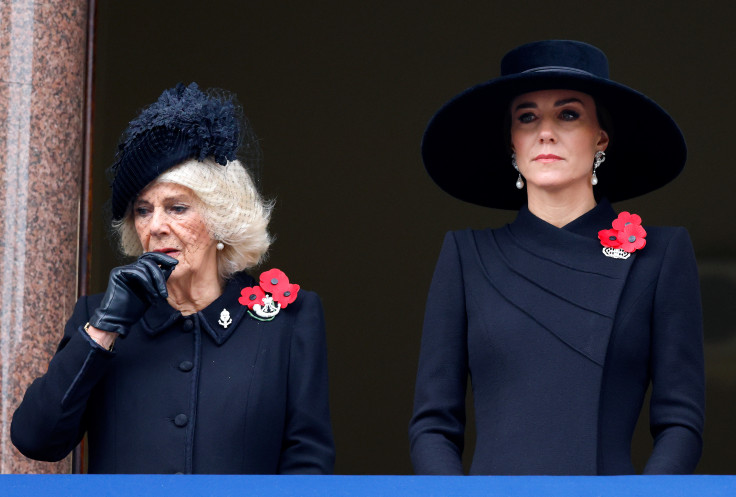 KEY POINTS
Kate Middleton and Camilla stood on the balcony of the Foreign Office during the Remembrance Sunday service
King Charles and Prince William's wives both wore black coats and hats with three poppies pinned to their coats
Camilla showed "combined signals of regal duty with some rituals of anxiety," according to an expert
Kate Middleton and Queen Consort Camilla showed contrasting body language when they stood side by side during the Remembrance Sunday service in London over the weekend, according to an expert.
King Charles III and the senior members of the royal family gathered together Sunday in London at the Cenotaph war memorial for the National Service of Remembrance to honor the U.K.'s war dead for the first time without Queen Elizabeth II.
The Queen Consort and the Princess of Wales stood on the balcony of the Foreign Office overlooking the Cenotaph, where wreaths were laid by the King.
Middleton and Camilla wore elegant black coats and hats. Each had three poppies pinned to their coats, along with diamond brooches. There was a poignant empty space on the balcony where the late monarch had stood to watch the service in the previous years.
Body language expert Judi James, a sought-after communication specialist who appears on high-profile TV and radio programs including ITV's "This Morning," weighed in on the two women's body language during the royal outing. According to her, Camilla looked anxious, while Middleton was calm.
"Watching from the balcony Camilla combined signals of regal duty with some rituals of anxiety," James told the Mirror. "Standing beside Kate, she performed a subtle smile of acknowledgment as her wreath was laid, and as she turned to Kate on their way from the balcony, she threw a rather fond smile as Kate spoke to her."
She also observed that Camilla smiled at Middleton a second time before nodding and walking ahead of the Princess of Wales in her new role as Queen Consort. The expert said Camilla's gestures showed "open anxiety."
"She looked unable to keep totally still and spoke to Kate at one point but while looking straight ahead rather than turning to her," the expert told the outlet. "Kate turned her head quickly in a gesture of polite concern. Kate's calm and very still body language was in contrast to Camilla's nervous movements that showed the most in the fluttering of her hymn sheet as her two hands fiddled with it throughout."
Lip reader Jeremy Freeman also shared to the outlet what he believes Middleton and Camilla talked about before they left the balcony. According to him, a confident Middleton was happy to lead them.
"Shall we go in now?" Middleton reportedly asked Camilla before they left the balcony.
James also examined King Charles' body language during the service. The new monarch reportedly suppressed his emotions.
"Charles stood at the Cenotaph as though totally alone and lost in his thoughts. His mouth was pulled down at the corners and his rapid blinking hinted he was close to tears as he remembered his mother as well as those fallen in action," James said of His Majesty. "There was even a micro-gesture of a small spasm of the lips to show suppressed emotions as they played the Last Post."
International Business Times could not independently verify the experts' claims.
The annual ceremony, which always takes place the second weekend of November, honors those from the U.K. and Commonwealth nations who died in wars.
The poppy pin on the royals' clothing is a symbol that has been used since 1921 to commemorate military members who lost their lives. Middleton's three poppies are believed to honor her great-grandmother Olive Middleton's three brothers, who all fought and died in World War 1, according to People.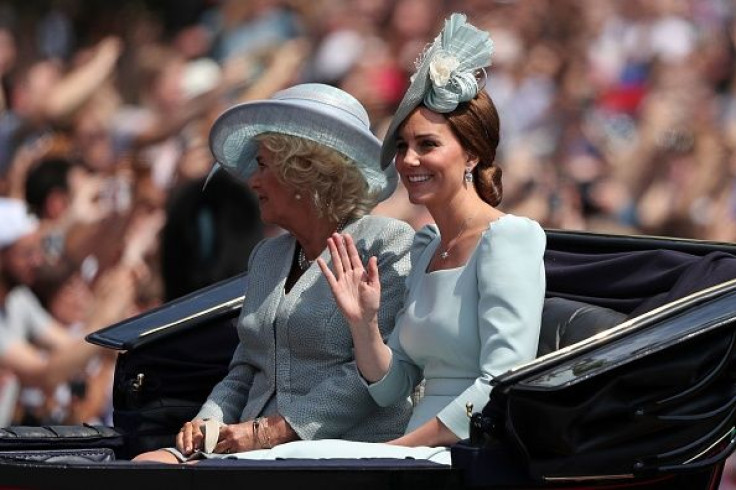 © Copyright IBTimes 2023. All rights reserved.