Kate Middleton Will Share Travel Tips From Queen With Meghan Markle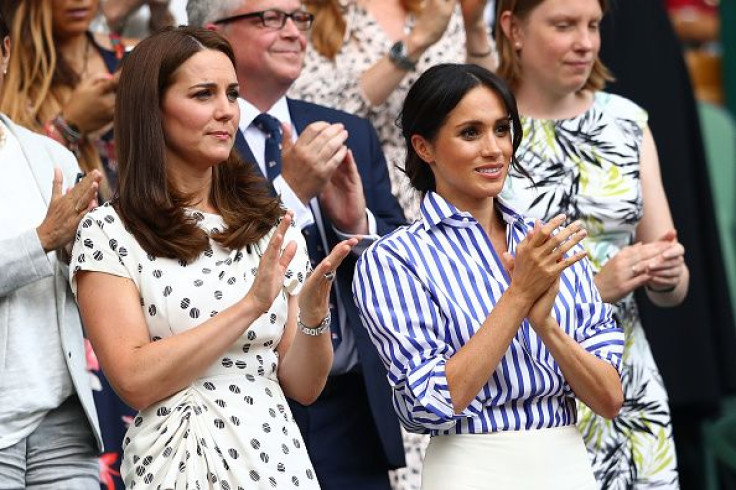 Kate Middleton has been with the royal family longer than Meghan Markle, so she is expected to teach the new duchess the tips she has learned from the Queen.
The Duchess of Cambridge has been a member of the Firm since 2011, while the Duchess of Sussex just joined the royal family last May. As such, Middleton will likely teach her sister-in-law the ins and outs of traveling abroad.
According to Kara Godfrey, a journalist for Express, Markle has broken some royal traditions like wearing wrong colored tights and black at public events. Middleton could share the things she learned from the Queen, like adding weights to the skirt so the winds won't blow it away.
Stewart Parvin, who holds a royal warrant for his store Peter Jones, explained earlier how Queen Elizabeth II avoided such disgraceful incidents. "I just pop a couple of weights into the hemline of her dresses and coats and it makes them hang beautifully," Parvin told Daily Mail.
Prince William's wife fell victim to the weather during their trip to Calgary in 2011 when a gust of wind blew up her skirt in front of the cameras. The incident happened again during their official visit to Australia. But by now, Middleton may have learned her lesson already and can share the Queen's trick with Markle, so she won't experience the same.
Markle has already taken some of her cues from Middleton when it comes to traveling. According to Godfrey, the Duchess of Sussex has learned from Middleton to wear the outfits designed by the country or location she is visiting. Also, Markle has ditched her tote and cross body bag for smaller clutch bags to avoid shaking hands. Middleton is popular for this style. In fact, in most photos, the Duchess of Cambridge can be seen holding a clutch bag in most of her royal engagement.
In related news, although Markle and Middleton are often compared there is no rivalry between the two duchesses. According to a photographer, Prince Harry's wife didn't compete with Prince William's spouse during their outing at Wimbledon. Markle just allowed Middleton to lead knowing that the latter would be the future queen.
In addition, Middleton has been a pillar of support for Prince Harry's wife during her father's scandal. Middleton and Queen Elizabeth II are reportedly among Markle's closest friends at the moment.
© Copyright IBTimes 2023. All rights reserved.