Katie Holmes Takes Suri For Lunch On Father's Day Without Tom Cruise: Report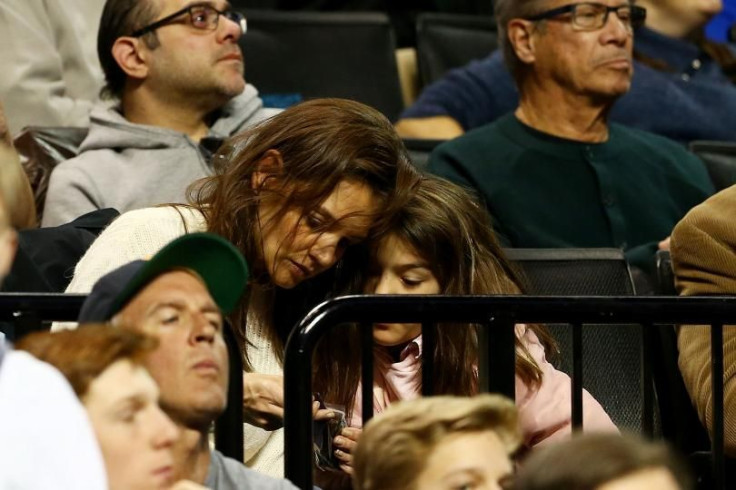 Katie Holmes and Tom Cruise's daughter Suri spent Father's Day without her dad in East Hampton, New York, Page Six reported Monday. Cruise also did not show up at Suri's birthday in April due to shooting for his upcoming flick "The Mummy."
According to Page Six, Holmes and Suri had lunch with friends at a pizza restaurant in East Hampton. The report added that the 10-year-old "caused a fun ruckus" at the eatery.
"They were there with a woman and two other kids. Suri and her friends were playing, and running around the restaurant," a source told Page Six. "It looked like they were playing tag … Running from table to table, but the customers didn't mind. They were just laughing and happy running around the patio."
Suri also made new friends "with kids who were sitting at the next table. I don't think they knew they were 'famous.' She was so chatty … Suri and Katie were very friendly and said goodbye to the staff and a few customers on the way out," the insider told the publication.
In May, a Radar Online report said that Suri was heartbroken when Cruise did not attend her birthday party. The report said that Holmes had planned a weekend of fun to celebrate before Suri's birthday which fell on Monday, April 18. However, the birthday girl had a "total meltdown" after her grandmother asked her if she got everything she wished for on her special day.
Cruise, the 53-year-old Scientologist, was spotted on the sets of "The Mummy" in London on the day of Suri's birthday. It was reported in April that another reason for the actor not being able to be present for her birthday was the Church of Scientology.
"[Cruise] had plenty of chances to see Suri in the past," a source had told InTouch magazine, noting that it has been over 900 days since he has seen Suri. But Katie has been called a "suppressive person" by the Church of Scientology, the report claimed, and "the closeness to her daughter likely makes seeing them both off-limits to Tom."
Earlier this month, InTouch reported that Cruise had not seen or spoken to Suri in 1,000 days.
© Copyright IBTimes 2023. All rights reserved.