Keelan Glass, 6-Year-Old Girl, Becomes Youngest Runner To Complete Half-Marathon [PHOTO]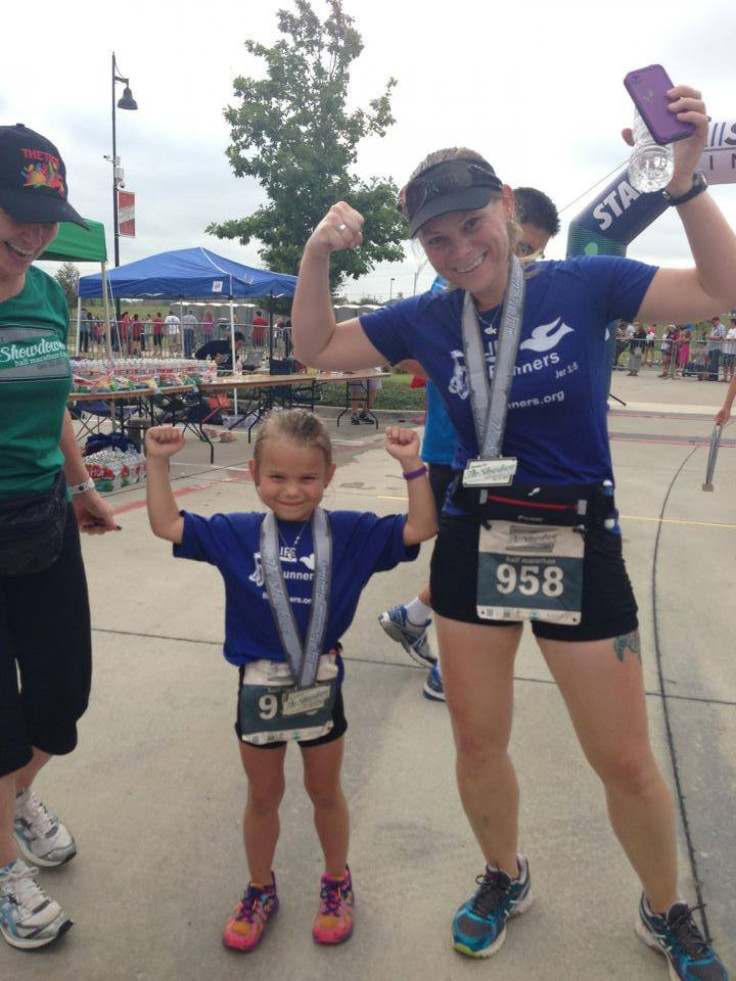 A 6-year-old Texas girl proved she could go the distance Saturday when she raced for a cause.
Keelan Glass of Abilene, Texas, became the youngest person ever to complete a half-marathon when she finished the Showdown Half Marathon in Fairview, turning in a time of 2:46:31, according to the Association of Road Racing Statisticians.
"Announcing my name when I finished, and all the money that I raised," Keelan Glass told the Dallas Morning News when asked what was the best part of the race. "It's fun because I can do it for other people," she said, referring to Life Runners, a national anti-abortion organization her mother belongs to.
Keelan ran in the under-14 age group, placing fifth out of the group's 10 participants -- remarkable considering all the others were 12 or 13.
"We lined up next to the pacers for the two-and-a-half-hour mark and one of the pacers said, 'How many of you here are running your first half-marathon?' and Keelan raised her hand and he said, 'You're running?' and she said, 'Yeah.' And he said, 'The whole thing?' and she said, 'Uh-huh,'" Tracy Glass, Keelan's mother, told KTXS.
Her parents, both triathletes, consulted with an orthopedic doctor before their daughter took to the road. While some say the first grader's accomplishment is impressive, others say it's a cause for concern.
"I think they're asking for trouble," William Moore, a Dallas pediatrician and endurance athlete, said pointing to potential long-term effects that a 13-mile run would have on Keelan's bones, muscles and joints. "There's a lot of potential for bad things and not a lot of potential for exceptionally good things to happen."
Tracy Glass, who accompanied her daughter during the race, said they followed Keelan's lead.
"We got to mile six and I said, 'How do you feel?' and she said, 'Great. Let's run to eight.' And I said ok. We ran to eight and when we got there, I said 'How are you feeling?' and she said 'Great, we can go to mile 10.' So we just kept going at her pace and on her time schedule," Tracy said.
Keelan says she has set her sights on a full marathon. "When I'm 10, I'm going to try to do a 26-mile race," she said.
Tracy Glass said her daughter got the idea to run in the half-marathon while they were discussing a Bible verse that spoke of "what gifts God gives us, and how we can use those gifts to help others."
"Keelan said, 'I can run fast. I can run for babies just like you do, Mom,'" Tracy Glass recalled.
Even after her big finish, Keelan remains unfazed. "That's the thing," Tracy said. "She doesn't really even understand how amazing it is."
© Copyright IBTimes 2023. All rights reserved.