Keith Lamont Scott Shooting Update: Video Of Gun Leads To No Charges For Charlotte Police Officer Brentley Vinson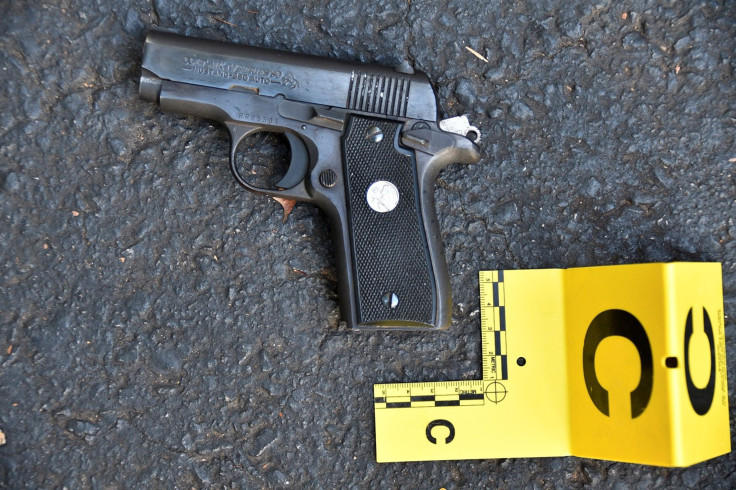 No criminal charges will be filed against the North Carolina police officer who shot a black man in Charlotte in September, Mecklenburg County District Attorney Andrew Murray announced Wednesday. Charlotte-Mecklenburg Police Officer Brentley Vinson's use of deadly force against Keith Lamont Scott was "lawful," Murray said.
"After a thorough review it is my opinion that Officer Brentley Vinson acted lawfully when he shot Keith Lamont Scott," Murray said. "I am fully satisfied and entirely convinced that Brentley Vinson's use of deadly force was lawful. Anyone is justified for using deadly force if they are in danger of great bodily injury or death."
Vinson shot Scott in an apartment complex parking lot after officers said they observed Scott with a gun Sept. 20.
Murray pointed to what he called video evidence of Scott with a "semi-automatic" gun in an ankle holster before the fatal incident occurred. He said it was not federal law to wait for Scott to fire his weapon before officers could act.
"[Scott] did not raise the gun based evidence and all statements from officers," Murray conceded.
Following the court decision, Scott's family released a statement expressing their disappointment that Vinson was not charged. They also urged any protests that may occur from the announcement to be peaceful.
"While we understand that many in the Charlotte area share our frustration and pain, we ask that everyone work together to fix the system that allowed this tragedy to happen in the first place," the statement said. "All our family wanted was justice and for these members of law enforcement to understand what they did was wrong."
Justin Bamburg, one of the Scott family attorneys, said after the announcement that Americans were taking to the streets in protest because they have "pent up frustrations" that justice was some "esoteric" concept that was only available to a select few in this country. He cited the recent killings of black men Eric Garner and Walter Scott at the hands of the police as reasons why the American public needed to collectively act to fix the problem legislatively.
"Vernita (Walker, Scott's mother) and Scott's family are victims of a situation that should have never happened in the first place," said Bamburg. "When are we as a county going to say enough is enough? Let's work to address the problem instead of reacting to tragedies that happen time and time again," said Bamburg.
One of the main disputed issues in this case were whether police should have approached Scott because they said he was in possession of a gun. North Carolina is an "open carry state," meaning licensed citizens are free to not only arm themselves but can openly display guns in their possession.
Another point of contention was whether Scott was actually in possession of a gun. Scott's wife informed Vinson that her husband was suffering from a traumatic brain injury. Scott's family has maintained that Scott was unarmed, the Charlotte Observer reported.
Scott illegally bought the gun in question, Murray said before adding the gun dealer admitted selling it.
Murray said police approached Scott when they saw him rolling a marijuana "blunt" in his car. Vinson, who is black, said he fired four shots when Scott held up his handgun and made a threatening gesture towards the officers. Vinson had no choice but to use lethal force when Scott failed to comply with multiple orders to drop his weapon, Murray said.
"The blood was tested and there was marijuana," Murray added. "The bottle [the marijuana was in] was tested and had residue that had marijuana."
In a video of the shooting recorded by Scott's wife, officers can be heard yelling at her husband "drop the gun." Rakeyia Scott responded: "He doesn't have a gun. He has a TBI (traumatic brain injury.) He's not going to do anything to you guys. He just took his medicine."
Body and dash-cam videos of the shooting failed to expose "absolute, definitive visual evidence" that Scott had a gun, Murray said. But a pistol and an ankle holster were found at the scene containing traces of Keith Lamont Scott's DNA, verifying Vinson's account, according to local reports.
Scott's wife told CBS' "This Morning" on Oct. 13 that her husband was acting out of character during the shooting because he had taken up to 11 different medications treating his multiple sicknesses, including his traumatic brain injury, before being approached by police.
Murray said that the prosecution was aware that Scott had been taking said medications and they may have resulted in behavior abnormalities such as aggression.
"He takes them, and you have to give it time to kick in," she said. "If you start a conversation with him, he's not going to remember the conversation. You have to wait for the medicine to kick in."
Among the 991 Americans killed by the police in 2015, 258 were black, the Washington Post reported. So far in 2016, there have been 875 documented deaths at the hands of the police.
Police officers were more prone to killing people with mental health condition, a 2015 Washington Post investigation determined. "The analysis found that about 9 in 10 of the mentally troubled people were armed, usually with guns but also with knives or other sharp objects. But the analysis also found that most of them died at the hands of police officers who had not been trained to deal with the mentally ill," the Washington Post reported.
© Copyright IBTimes 2023. All rights reserved.