Kendrick Lamar Confirms More Music Is On The Way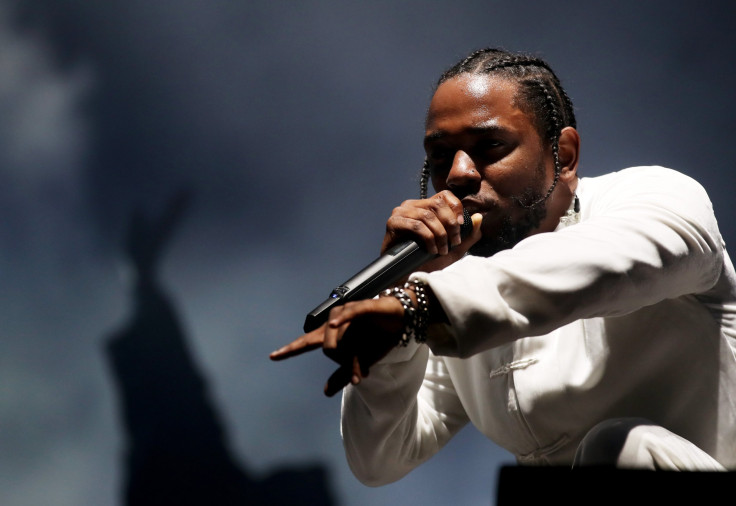 UPDATE: 2:30 p.m. EDT — Following reports that he would be releasing new music, Kendrick Lamar took to Twitter on Friday afternoon to deny the claims. "ThankU 4 the desire of always anticipating new music of my own. None is coming. My work will be in our future TDE dates tho," he tweeted.
Original story:
Kendrick Lamar may have just released one of the most buzzed about albums of the year, but the California rapper already has more music on the way. After a fan theory for another album turned out to be false, the "DAMN." rapper confirmed more songs are coming, he just wouldn't reveal if it was new music.
Appearing at an in-store signing in Compton, California, on Thursday, the "Loyalty" rapper revealed the news during a Facebook live video, telling his fans, "We gon' continue to bang this. I got more music. Ya hear what I'm saying?"
Unfortunately for Kendrick Lamar fans, the rapper didn't clarify if more music meant a new album or leftover tracks from the "DAMN." sessions. If the rapper did follow up his latest release with a compilation of unreleased music, it wouldn't be his first time. Following the release of 2015's "To Pimp a Butterfly," the hip-hop artist released "Untitled Unmastered," a compilation of eight previously unreleased demos that came from the "To Pimp a Butterfly" recording sessions.
Kendrick also wasn't the first person to speak about him having more music coming. During an interview with Mass Appeal, DJ Kid Capri, who appears on Lamar's new album, said the rapper has songs that weren't used on "DAMN."
"There's a gang of stuff that hasn't been used yet. That's why I said I think he's doing something later on, or he might be doing something for his show, but there's a lot of stuff that I put out there," said Kid Capri.
While fans wait for more music from the rapper, you can already take a look at verse that didn't get used for the song "Pride." Top Dawg Entertainment co-president Punch posted a photo of the unused verse which read, "Pride is my biggest sin / I tried to fight it but I never win / Layin' myself down in the beds I made / Karma is always knockin' with capital K's."
© Copyright IBTimes 2023. All rights reserved.