Kerry Washington As Anita Hill Photo Released; See Image From HBO Movie 'Confirmation'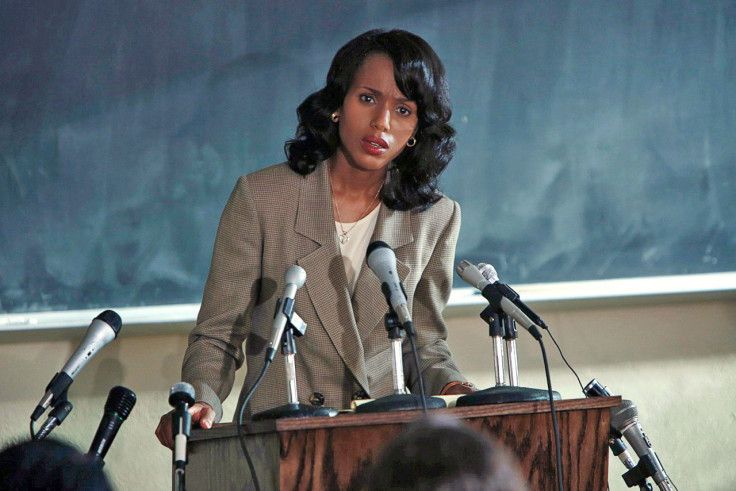 Kerry Washington fans are used to seeing the "Scandal" actress in the middle of political controversy on the popular ABC drama. However, Washington is headed to HBO later this year to play the key role in a movie about a real-life political scandal – Supreme Court Clarence Thomas' 1991 confirmation hearings. In "Confirmation," Washington plays Anita Hill, the Oklahoma-born lawyer who accused Thomas of sexual harassment during the 1991 hearings, and a new photo shows the actress in the historic role.
The photo (seen above), released by HBO Tuesday, shows Washington as Hill, fielding questions from reporters at a press conference. Washington stands behind a podium filed with microphones looking concerned.
In 1991, President George H.W. Bush's appointment of Federal Circuit Judge Clarence Thomas to replace retiring Supreme Court Justice Thurgood Marshall seemed destined to pass without much fanfare or political squabbling. However, after allegations of sexual harassment from Anita Hill in an FBI interview leaked to the press, the confirmations became a heated, highly publicized event. Hill had worked under Thomas at the U.S. Department of Education and claimed he acted inappropriately towards her at the office. Thomas was eventually confirmed, 52-48, in one of the closest margins in U.S. history, but Hill's allegations were never disproved.
The star-studded cast for "Confirmation" includes, Wendell Pierce ("The Wire") as Thomas, Greg Kinnear ("Little Miss Sunshine") as then-Senator Joe Biden, who presided over the hearings, Jennifer Hudson ("Empire") as witness Angela Wright, Jeffrey Wright ("Boardwalk Empire") as Harvard Law professor Charles Ogletree, and Alison Wright ("The Americans") as Thomas' wife, Virginia Thomas. Rick Famuyiwa ('Dope," "Or Family Wedding") will direct.
A premiere date for "Confirmation" has not yet been announced. However, Kerry Washington will return to ABC in the fall as fixer Olivia Pope for the premiere of "Scandal" Season 5.
© Copyright IBTimes 2023. All rights reserved.