Khloe Kardashian Shades Kourtney's Wedding Dress, New Style: 'This Is A Phase'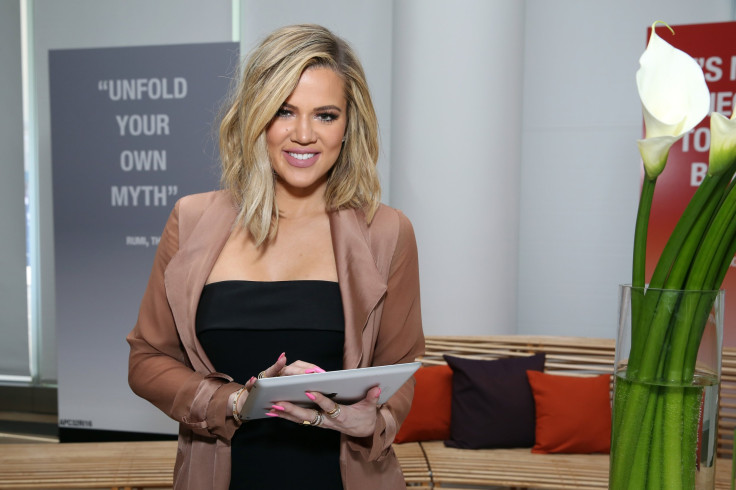 KEY POINTS
Kourtney Kardashian wore a custom Dolce & Gabbana Alta Moda minidress during her and Travis Barker's wedding in Italy.
Her mother, Kris, and siblings — including Kylie Jenner and Kendall Jenner — donned dresses from the luxury brand.
Kourtney and Khloe also spoke about the latter's relationship with Tristan Thompson.
The Kardashians siblings, Kourtney and Khloe, were unfiltered when they challenged each other in a lie detector test.
Kourtney and Khloe took turns in playing interviewer and interviewee roles for Vanity Fair's lie detector test. The siblings put each other on the hot seat and asked shocking questions about different topics, from Kourtney's wedding to Blink 182 drummer, Travis Barker, to Khloe's current relationship status with Tristan Thompson.
In the video posted on Vanity Fair's official YouTube channel, the eldest Kardashian started by asking her sister whether she had a great time at her Portofino wedding and what she thought of her custom Dolce & Gabbana Alta Moda wedding gown.
After Khloe assured her that she enjoyed the ceremony, she took a subtle swipe at Kourtney's wedding dress.
"It was fine," Khloe said. "I mean, it was beautiful, for sure. I just would have loved to see you in that at the after-party and then something [else] prior."
According to Vogue, the bride's minidress was "inspired by 1960s Italian lingerie."
Khloe's answer prompted the eldest sister to ask if the "Strong Looks Better Naked" author thinks she changed her sense of style. From her notable tight-fitting and jaw-dropping outfits, Kourtney has opted for T-shirts and rock-inspired looks since she began dating Barker.
The "Khloé Take The Hamptons" star clarified that, while she noticed Kourtney's change in style, she does not think it is bad or good. She showered Kourtney with compliments and told her she liked her style before and still likes her style now.
Still, Khloe believes that her current style is just a phase for her sister and that she will soon go back to what she truly loves.
The Kardashian sisters' lie detector test also touched on the Good American cofounder's relationship with her ex-boyfriend, Thompson.
Kourtney directly asked her whether she is sleeping with the NBA star and Khloe immediately dismissed the idea. The polygraph examiner confirmed her answer and said it was the truth.
Khloe and the NBA player had been in an on-again, off-again relationship. They ultimately called it quits after Maralee Nichols filed a lawsuit against Thompson and revealed that he was her son's father.
He later confirmed the result of the paternity test and apologized to Khloe. Despite the breakup, they welcomed their second child via surrogate in July.
"I take full responsibility for my actions," Thompson posted on his social media account in January. "Now that paternity has been established I look forward to amicably raising our son. I sincerely apologize to everyone I've hurt or disappointed throughout this ordeal, both publicly and privately."
© Copyright IBTimes 2023. All rights reserved.