Kickstarter Removes Page For Controversial Pick-up Artist "Seduction Book," Apologizes
After days of controversy over a proposed guide book that purported to teach the readers "how to get awesome with women" that was listed on Kickstarter, the start-up-helper took down the project and apologized. Kickstarter said that funding for the book, called "Above the Game," started by a man named Ken Hoinsky from Milford, Conn., has already passed into Hoinsky's hands.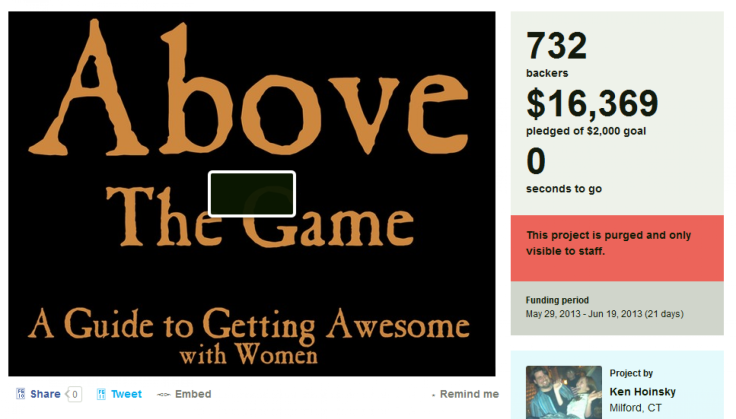 After initially refusing to take it down, in a statement on Friday, Kickstarter said, "Let us be 100 percent clear: Content promoting or glorifying violence against women or anyone else has always been prohibited from Kickstarter. If a project page contains hateful or abusive material, we don't approve it in the first place."
Kickstarter says it views every project that is listed and screens out any that are deemed to have "offensive material (hate speech, etc.)." Kickstarter claims it didn't see the material when it was submitted.
The project attracted attention, and funders, after Hoinsky posted the project on Reddit. It subsequently gathered $16,369 in funding, more than eight times the requested amount of $2,000. In total, Hoinsky attracted 732 "backers."
But the project's presence and popularity caused a storm of controversy among feminists, who accused Hoinsky of advocating sexual assault through such phrases as "physically pick her up and sit her on your lap" and recommended that men force their genitalia into women's hands.
Hoinsky has defended his work by saying such quotes were taken out of context. Kickstarter, in the meantime, also announced it will be donating $25,000 to the Rape Abuse & Incest National Network, the largest anti-sexual violence organization in the U.S.
© Copyright IBTimes 2023. All rights reserved.
FOLLOW MORE IBT NEWS ON THE BELOW CHANNELS