Kim Hee-Chul Slammed For 'Rude' Reaction To Aespa's NingNing Saying Looks Aren't Important In Men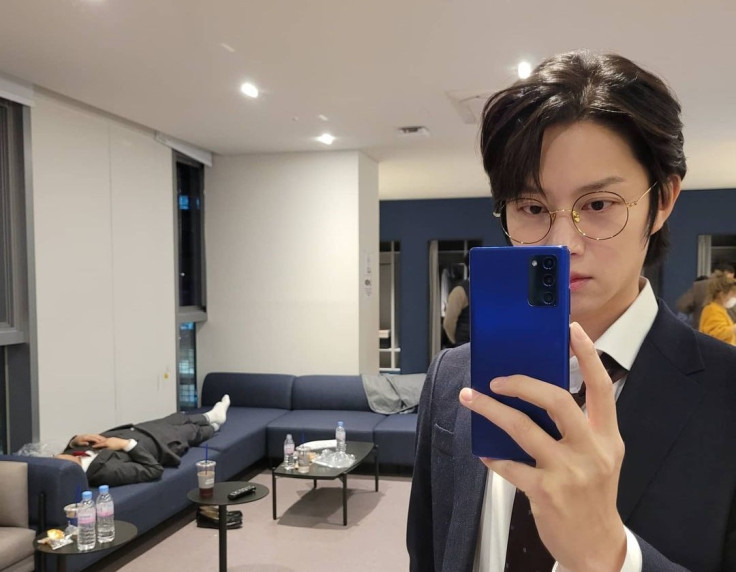 KEY POINTS
Kim Hee-Chul was slammed for his "rude" remarks toward aespa's NingNing
NingNing got asked whether or not appearance was important to her
Social media users called out Hee-Chul for his careless reaction
Kim Hee-Chul faces massive backlash after giving a "rude" reaction to aespa's NingNing saying she doesn't care about men's appearances when looking for her ideal partner.
During a recent episode of JTBC's "Knowing Bros," NingNing, Karina and Winter were asked whether or not appearance was important in men and if they preferred personality over looks.
The 20-year-old China-born singer confidently answered that she didn't care about appearance, which sparked shocked expressions from the hosts.
Hee-Chul — a member of the K-pop group Super Junior — then pointed to his fellow host, comedian Kim Young-Chul, indirectly asking the singer about what she thought of him. He added that the comedian was the "nicest and kind" person in the group, seemingly joking that he lacked in the visual aspect.
NingNing, however, remained professional, just going with the flow, responding, "So what?" The hosts and her fellow aespa members erupted in laughter, while one host said that she seemed to have her "own standards" in men.
Though the interaction seemed like a joke on the show, it did not sit well with many social media users. Some even called out Hee-Chul for being "rude" toward both NingNing and Young-Chul, while others disliked that he even suggested that the aespa member comment on the comedian, who was over twice her age.
"It's f—king rude to talk about Kim Young-Chul every time like that," one user wrote in an online forum, while another commented, "I hope young people don't go to a lot of old men's programs... I don't want to see something like that. It's a joke, but it's disgusting."
"You're as young as a daughter, do you want to joke like that?? Poor Kim Young-Chul. When will Kim Hee-Chul really grow up? Kim Hee-Chul himself is like an uncle with an almost 20-year age difference from aespa," a third user observed.
"It's rude in many ways. First of all, that question itself is rude to Kim Young-Chul," a fourth user said.
Another commented, "That question is being both rude to NingNing and Kim Young Chul."
"'Knowing Bros' should change their name to 'Really Rotten Bros,'" a sixth user quipped.
"You're not at an age where you can invite 4th generation female idols and talk about your ideal type," another user emphasized.
"Aren't you going to reorganize? I hope they change to new hosts. The times have changed too," an eighth user suggested.
It was not the first time Hee-Chul received backlash for his careless remarks.
Earlier this year, the singer got criticized for defending his former bandmate, Kangin, who was involved in a drunk driving case, and for his vulgar expressions during discussions about school violence and bullying during a live stream.
He also revealed that he purposely chose not to attend an overseas schedule with Super Junior and coordinated with his longtime label SM Entertainment to make a fake statement, citing that he was sick.
Hee-Chul has since penned an apology for his actions on Instagram, writing, "Regardless of the right or wrong of my thoughts, I apologize for exaggeratively using profanity and vulgar expressions and for portraying double standards."
"I am most sorry to the fans who were hurt by the controversy I made once again. This will be the last time this happens, and I will try my best not to be involved in any controversy in the future," he continued, adding that he realized that it was "wrong to swear at school violence [perpetrators] and certain sites."
© Copyright IBTimes 2023. All rights reserved.