Kim Kardashian Reveals She Spent 14 Hours Bleaching Her Hair For The Met Gala
If there's anyone committed to perfecting their Met Gala look, then it's got to be Kim Kardashian. The 41-year-old reality TV star and beauty mogul has shared that she spent "14 hours straight" getting her hair bleached.
The mother of four opened up to Vogue about needing to get the perfect hair shade to match Marilyn Monroe's iconic "Happy Birthday Mr. President" dress, which Kardashian donned on the red carpet for a few minutes before switching into a replica.
"I did want a physical change, too, so I thought I would wait and do it for this, so I'm spending a day straight dyeing my hair — 14 hours straight! — to get it done," Kardashian explained, adding that she worked with hairstylist Chris Appleton to achieve that perfect shade of Marilyn blonde.
But, in true Kim Kardashian style, she gave her own twist to the Marilyn Monroe look by tying it up in a sleek bun. "The hair look was simple to highlight the platinum color, giving the hair color and dress the attention. I wanted it to be iconic to Marilyn, but also iconic to Kim when she has her blonde moment," Appleton said.
The "Keeping up with the Kardashians" alum also said in her sister Kylie Jenner's "Married to the Met" video that she would "risk getting my hair to fall out" for the look she was going for.
"I cannot believe you're really dyeing your hair. You're so bold for that," Jenner, 24, told Kardashian, who compared her new hair to Elsa, the main character in "Frozen."
"My hair's gonna be blonde! Like Elsa," she told Jenner's 4-year-old daughter, Stormi Webster, while wearing foils in her hair.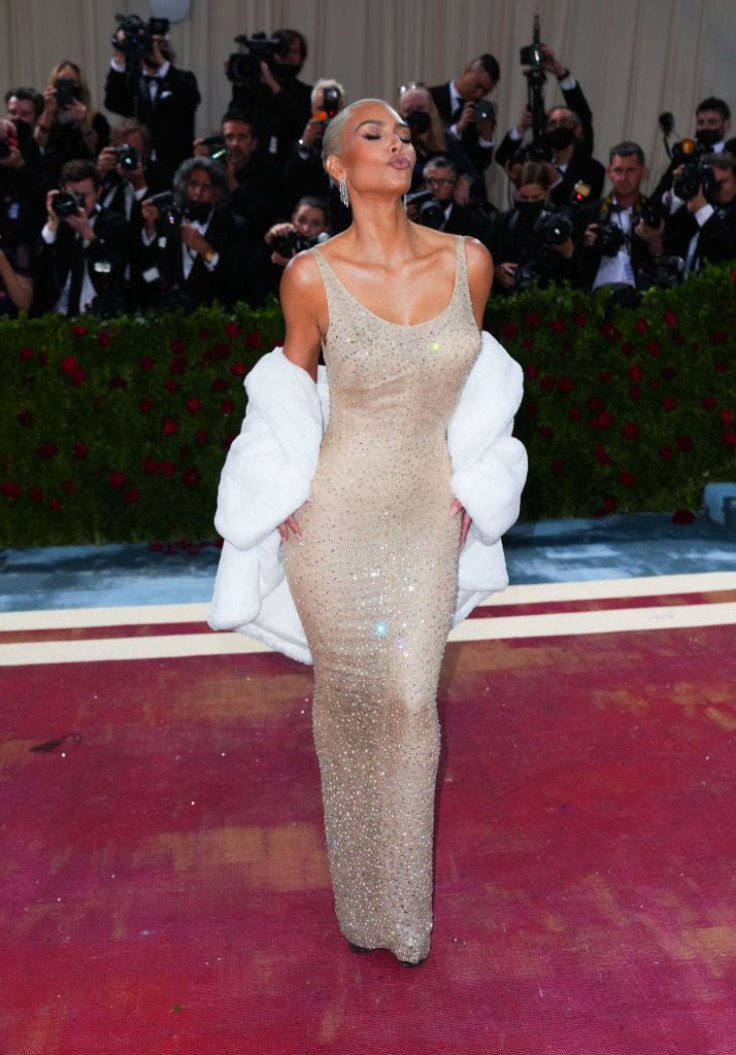 But since Kardashian, who has a naturally dark hair tone, went completely blonde in just one day, her hair appeared botched on the red carpet. Apparently, the process usually takes about months to gradually lighten the hair.
Zach Mesquit, a hairstylist who specializes in platinum blonde, spoke about the celeb's patchy hair in a TikTok video, where he shared that transforming someone's hair from dark to this shade is an "insanely difficult process" to complete within a short amount of time.
"It all comes down to lifting. If you don't evenly lift the hair with the bleach, you can not use a toner to even it out when you go to platinum," he said, pointing out the different shades in Kardashian's hair on the red carpet.
He then spoke about a very common mistake that bleaching experts make while lightening someone's hair. "You get most of the hair to a nice even level 10, but they've still got some level 9, level 8 yellow in there. They try and tone it over with something ashy to neutralize it and what ends up happening is all the hair that was lifted up to that correct level 10 gets nice and white in the root area," Mesquit said.
"One more lightening session, and it would have been spot on," he concluded.
© Copyright IBTimes 2022. All rights reserved.
FOLLOW MORE IBT NEWS ON THE BELOW CHANNELS