Kirsten Dunst Calls Brad Pitt Kiss 'Disgusting'; Talks Sexual On-Screen Awakening, 'Spider-Man' Reboot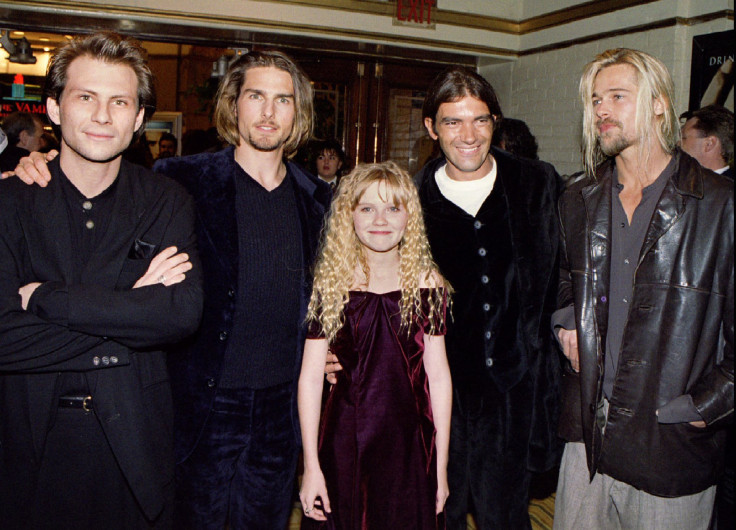 And you thought your first kiss was awkward.
Actress Kirsten Dunst recently revealed that her first real-life and on-screen kiss with Brad Pitt in the 1994 blockbuster "Interview with the Vampire: The Vampire Chronicles" at age 11 was less than romantic, calling the experience "disgusting" to Bullet magazine.
"It was just a peck," said Dunst, 30, regarding her role as Claudia, an immortal vampire child; a role that won her a coveted Golden Globe nomination for best supporting actress.
"He had this long hair. He was just a hippie-ish cool dude. Everyone at the time was like, 'You're so lucky you kissed Brad Pitt,' but I thought it was disgusting. I didn't kiss anyone else until I was 16, I think. I was a late bloomer," she said adding that Pitt, then 31, had an obsession with watching MTV's "The Real World" on set of the vampire flick.
Despite her disturbing on-screen kiss, Dunst said she was happy to work with Pitt and co-star Tom Cruise.
"That was a big deal to get that role. I remember, I auditioned so many times for that film. … It was a very coveted young girls' part to get. … That was a big deal to work with those people," Dunst told Film Industry Analyst Scott Feinberg in 2010.
But it was Dunst's role in "The Virgin Suicides" in 1999 that the actress claims was a major turning point in her sexuality and her film career.
"It was the first time someone wanted me to be more sexual, to the object of desire," said Dunst regarding her role as a provocative teen, Lux Lisbon, whose religious parents shelter her and her siblings after one of her sister commits suicide.
The film's director, Sofia Coppola, said the racy film that was originally opened for limited release is now a favorite among teens.
"I was so surprised when someone told me recently that their 14-year-old daughter loved it. I wondered how they knew about it since they weren't even born when it came out," said Coppola. Dunst commented she was pleased by the film's success so many years after its debut.
"To be in one of so many people's favorite movies is all you want as an actor," said Dunst, who added it was her large fan base following the release of blockbuster "Spider-Man" that has her craving to film another installment.
"I wish we could have done a fourth movie. We were like a family. …To many people, I'm still that girl from 'Spider-man,'" said Dunst.
The "Spider-man" franchise has since moved on to other actors, with Andrew Garfield playing the lead of Peter Parker and Shailene Woodley taking over Dunst's role as fiery red-head and love interest, Mary-Jane Watson.
The thriller "The Two Faces of January," starring Dunst, debuts later this year. The actress is currently in pre-production on the financial drama "Cities" alongside Orlando Bloom; the pair first started together in the romantic comedy "Elizabethtown."
© Copyright IBTimes 2023. All rights reserved.