Kylie Jenner Caught In Bed With Jaden Smith: Is It As Controversial As Willow's Picture With Moises Arias?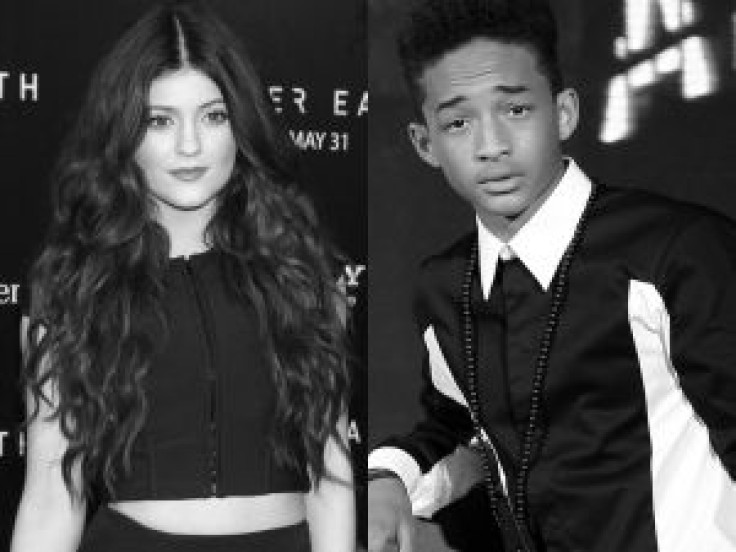 Willow Smith is not the only member of the Smith clan these days who was photographed in bed with a member of the opposite sex. Her brother Jaden Smith, 15, was also snapped in some racy bedroom photos recently.
Over the weekend, Kylie Jenner posted a picture on Tumblrof herself in bed with her best friend and rumored boyfriend, Jaden Smith.
(View photo here.)
Jaden Smith appears in the black-and-white photo half-naked while the reality TV star sits behind him. In the photo, she seems to be resting her hands on his waist as he closes his eyes and his gapes open.
Fans have debated for the last several months whether or not the two teenagers are an item, as they are often seen in each other's company. Recently, photographers snapped Jaden Smith putting a gold necklace around Jenner's neck while they were in a crystal shop.
Last year, Jaden Smith, the son of Will Smith and Jada Pinkett-Smith, opened up about his relationship with Kim Kardashian's youngest half-sister.
"She's one of my best friends," he told Wonderland magazine. "It's pretty awesome."
While the photo may have been innocent, a similar picture of Jaden Smith's younger sister, Willow, 13, was not perceived as such. Earlier this month, Willow posed next to an older man while in bed. The image features Moises Arias, 20, famous for playing Rico on Disney's "Hannah Montana" series, lying topless next to the young girl. The photo attracted controversy, and although Arias had posted it on his official Instagram page, he later deleted it.
Willow's mother, actress Jada Pinkett-Smith, 42, was not too pleased about the negative media attention that her daughter received over the photo.
Days later, she spoke to TMZ about the matter.
"Here's the deal," she said. "There was nothing sexual about that picture or that situation. You guys are projecting your trash onto it, and you're actually, like, covert pedophiles, and that's not cool."
© Copyright IBTimes 2022. All rights reserved.
FOLLOW MORE IBT NEWS ON THE BELOW CHANNELS