Kyrsten Sinema Facts: First Openly Bisexual Person Elected To Senate From Arizona
Democratic Rep. Kyrsten Sinema won the race for a Senate seat in Arizona on Monday, defeating Republican Rep. Martha McSally. Her win marked the first Democratic triumph in the state since 1976 and she became the first openly bisexual person elected to the Senate.
McSally conceded defeat and wished Sinema on her victory. "Congrats to Kyrsten Sinema. I wish her success. I'm grateful to all those who supported me in this journey. I'm inspired by Arizonans' spirit and our state's best days are ahead of u," she tweeted.
"As long as I've served Arizona, I've worked to help others see our common humanity & find common ground. That's the same approach I'll take to representing our great state in the Senate, where I'll be an independent voice for all Arizonans," Sinema tweeted.
Sinema, 42, began her political career as a firebrand liberal under Ralph Nader's 2000 Green Party presidential campaign. She made headlines in 2012 when she was elected as the representative for Arizona's 9th Congressional District.
She was also the first openly bisexual person elected to Congress in 2012. However, by the time she took her seat the following year, there were six openly gay or lesbian Congresspeople. She topped Thrillist's list of "The Sexiest Singles of the US Congress" in 2015, Heavy.com reported.
Her official biography describes her as someone who "knows firsthand the struggles families face. As someone whose family at times faced serious poverty growing up, she knows what it means to struggle just to meet the most basic needs. For three years, her family lived in an old gas station – a rectangle building with no electricity or running water."
Sinema's parents divorced when she was a child and her mother married the vice-principal of her elementary school. However, the man soon lost his job and they were left with no money. The family then lived in an abandoned gas station on the outskirts of a Florida Panhandle town and took showers in the trailer of an uncle. Their fortune became better over time and they moved to a small house. Sinema worked hard to get her high school diploma and a bachelor's degree from Brigham Young University, Utah. Post her graduation, she started social work.
"Sinema became a social worker helping struggling families. She soon realized that the problems they came to her with – poverty, homelessness, job loss, abuse – were common to so many families, and that solving these problems meant thinking bigger than one family at a time. It required fighting for real change to rebuild an America that works for ALL Americans," her biography reads.
Sinema was raised as a Mormon, but is no longer affiliated with any church. However, she does not describe herself as an atheist.
Breitbart reported that Sinema co-sponsored a gun control bill in 2017, known as the Public Safety and Second Amendment Protection Act of 2017. It was the regurgitated version of the bill pushed by Barack Obama following the 2012 attack on Sandy Hook Elementary School. The bill expanded background checks, placed new regulations on gun shows, and barred private gun sales.
According to non-profit organization On the Issues, she expressed support for "gun licenses" in 2006. She supported the thought of maintaining and strengthening the enforcement of existing state restrictions on the purchase and possession of guns.
She also believed that background checks are required on gun sales between private citizens at gun shows and a license is required for gun possession.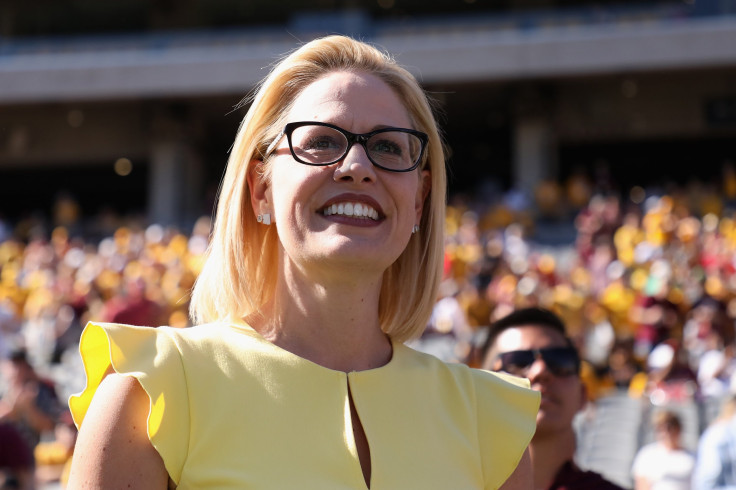 © Copyright IBTimes 2023. All rights reserved.
FOLLOW MORE IBT NEWS ON THE BELOW CHANNELS