'LA to Vegas' Season 1 Finale: Dave Plans To Propose To Patricia
Captain Dave wants to take his relationship with Patricia to the next level in tonight's Season 1 finale of "LA to Vegas."
According to the synopsis for Season 1, episode 15 of the Fox comedy, Dave (Dylan McDermott) plans to propose to Patricia (Amy Landecker) against the wishes of her daughter Nichole (Olivia Macklin).
While it's unclear why Nichole doesn't want Dave to pop the question to Patricia, the professional stripper is probably worried that her mom would turn down the pilot's wedding proposal. As viewers will remember, Patricia told Dave at the end of Season 1, episode 13 that her job always comes first, so it won't be a surprise if Patricia ends up saying no to Dave.
In addition to Nichole, Colin (Ed Weeks) and Artem (Peter Stormare) also think that Dave's decision to propose to Patricia shortly after their breakup isn't a good idea.
"What!? I thought today was all about getting over Patricia," a surprised Colin told Dave last episode when the latter revealed that he's going to buy an engagement ring for the politician.
"Oh, it was. But as I was standing at the [casino's] craps table, in the middle of all those people chanting my name, it hit me," Dave replied. "I know I said I don't need love, but the truth is, I need love constantly, all the time."
When Artem asked if proposing to Patricia will get Dave the loving he needs, the former Air Force pilot said, "Well, I'm pretty sure not proposing won't."
Newly divorced Colin also pointed out to Dave that proposing to someone is a "really big decision." But for some reason, Dave seemed pretty confident that Patricia will agree to marry him.
In the trailer for the episode, Dave tries to join the mile-engagement club with the help of his cabin crew and other passengers. Though everyone is all smiles, Patricia is clearly caught off guard. Will she say yes?
Elsewhere in the episode, Ronnie applies for a job on another airline, not thinking about what a change in route might mean for her relationship with Bryan (Zachary Knighton). Also, Artem encourages Colin to stand up to his ex-wife.
During a panel at the Deadline's The Contenders Emmys earlier this month, McDermott said that the season finale is a "little chunkier" than previous episodes of the show. "More happens [for] Captain Dave. You see him gambling, having a little romance. It's more fun if you will," the actor teased.
"LA to Vegas" Season 1 finale, aptly titled "The Proposal," airs on Tuesday, May 1 at 9 p.m. EDT on Fox.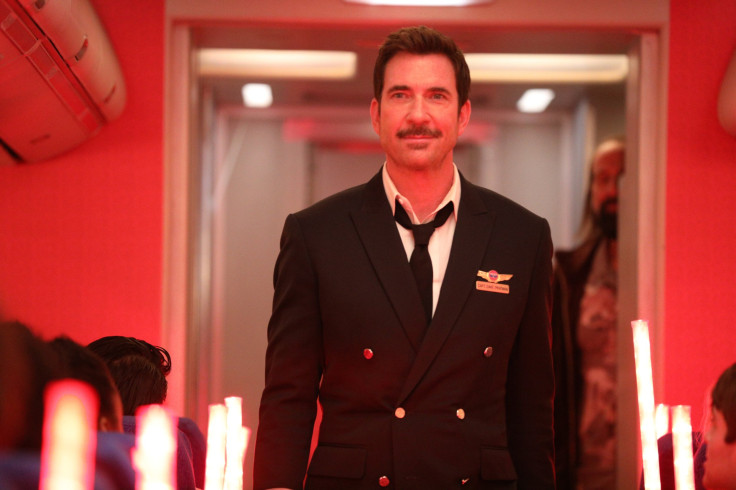 © Copyright IBTimes 2023. All rights reserved.
FOLLOW MORE IBT NEWS ON THE BELOW CHANNELS