Labor Day Weekend Drinks 2021: 6 Easy Cocktail Recipes To Celebrate The Holiday
Although there are still a few weeks left before fall arrives, Labor Day marks the unofficial end of summer. Nowadays the federal holiday represents the last chance to have fun in the sun before the temperature begins to drop.
Observed on the first Monday in September, Labor Day became a federal holiday in 1894 thanks to the labor movement.
The day recognizes the achievements and contributions of American workers and is celebrated with barbeques, parties, and more.
Whether you are off from work on Monday or only have the weekend to indulge in the end of summer festivities, check out these tasty cocktail recipes and a special bonus to kick off your Labor Day celebration.
Crystal Head Mojo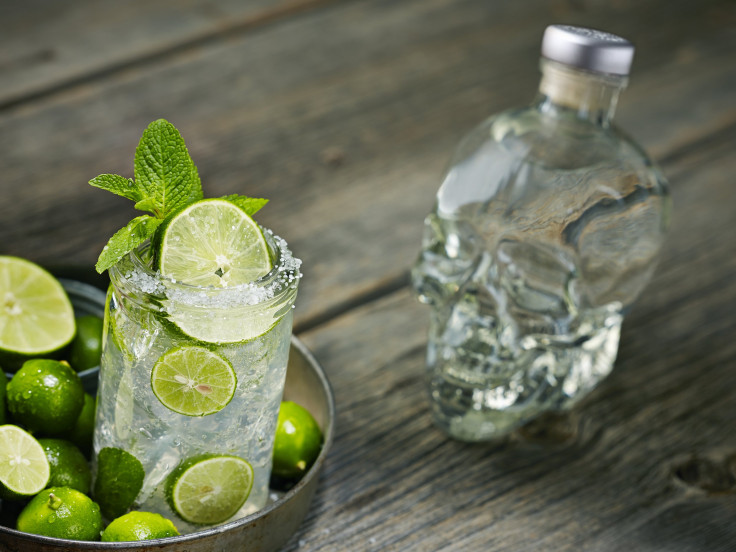 Ingredients:
2 oz. Crystal Head Vodka
¾ oz. Fresh Lime Juice
¾ oz. Simple Syrup
8-10 Mint Leaves
Directions:
Combine all of the ingredients in a cocktail shaker and gently muddle the mint leaves. Next, add ice and shake vigorously for eight to 11 seconds. Then double strain the cocktail into a tall collins glass over ice. Garnish with a lime wheel and fresh mint crown.
The Frozen Mango Margarita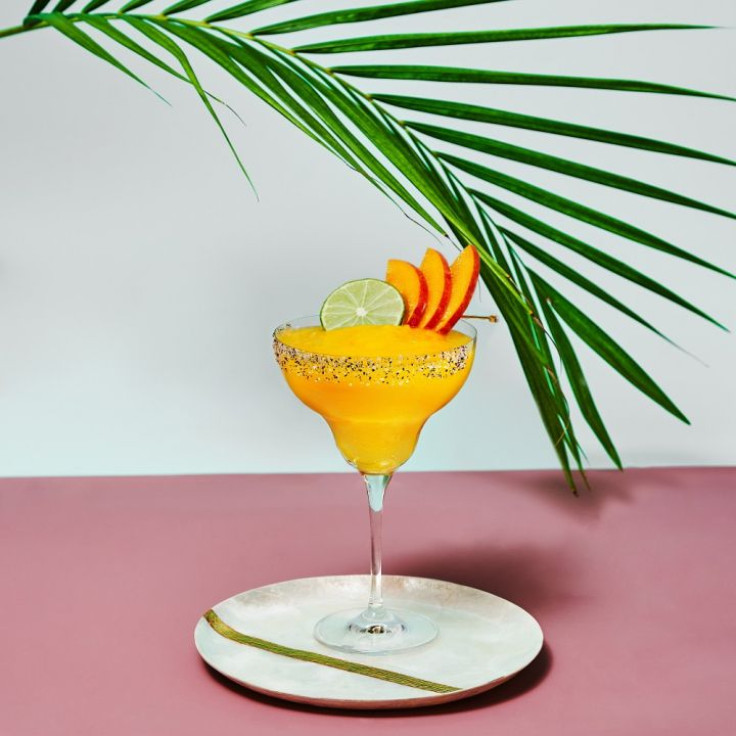 Ingredients:
1 oz. Cointreau
2 oz. Mezcal
1 oz. Fresh Lime Juice
¼ oz. Simple Syrup
5 Mango Cubes
7 Ice Cubes
Directions:
Place all of the ingredients in a high-powered blender to combine. Then pour the beverage into a Margarita glass rimmed with chili lime seasoning. Garnish with a lime wheel and/or palm frond.
Templeton Rye Summer Smash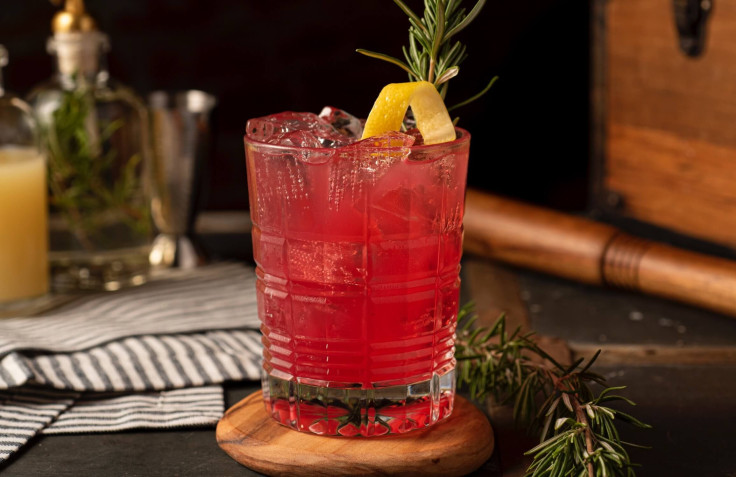 Ingredients:
2 oz. Templeton Rye 4 year
½ oz. Amaretto
3-4 Blackberries
1 ½ oz. Fresh Sour Mix
Ice
Lemon Twist & Rosemary Sprig Garnish
Directions:
Add the Templeton Rye, amaretto, blackberries, and fresh sour mix into a cocktail shaker with ice. After shaking vigorously, double strain the drink into a Collins glass filled with ice. Add a lemon twist and rosemary sprig to garnish the refreshing cocktail.
Glenmorangie x BBQ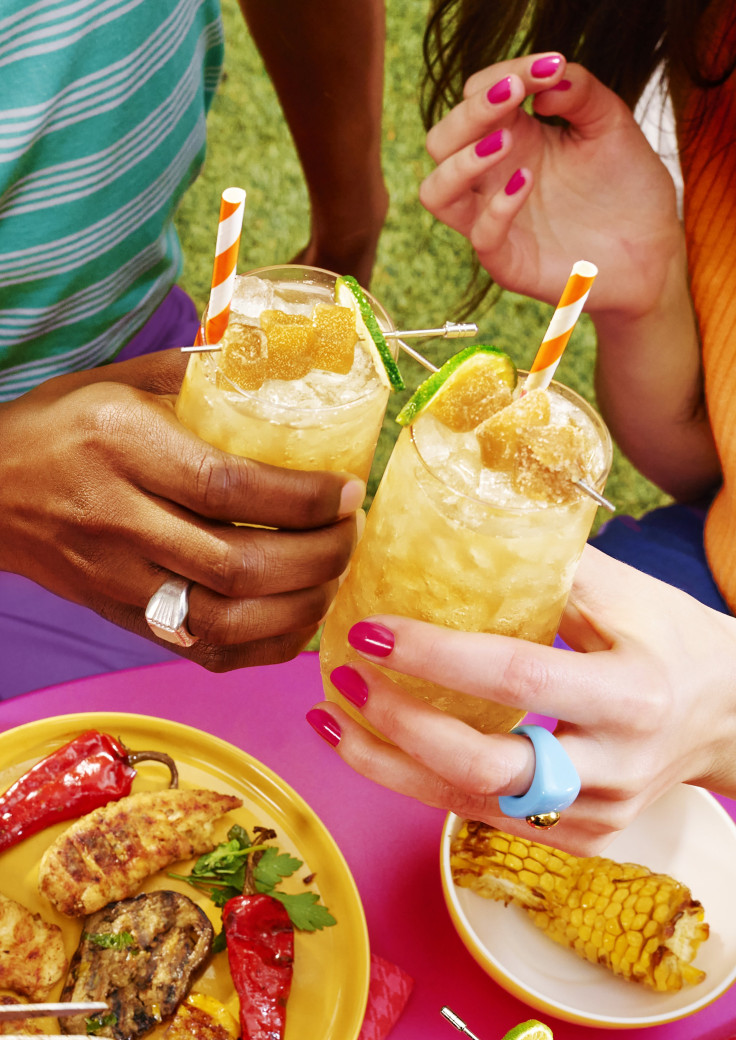 Ingredients:
2oz. X by Glenmorangie
2oz. Ginger Beer
Lime wedges
Directions:
Add X by Glenmorangie and ginger beer into a highball glass filled with crushed ice. Then stir while squeezing three lime wedges over the drink. Use the lime wedge to garnish your finished beverage.
Belvedere Blackberry & Lemongrass Spritz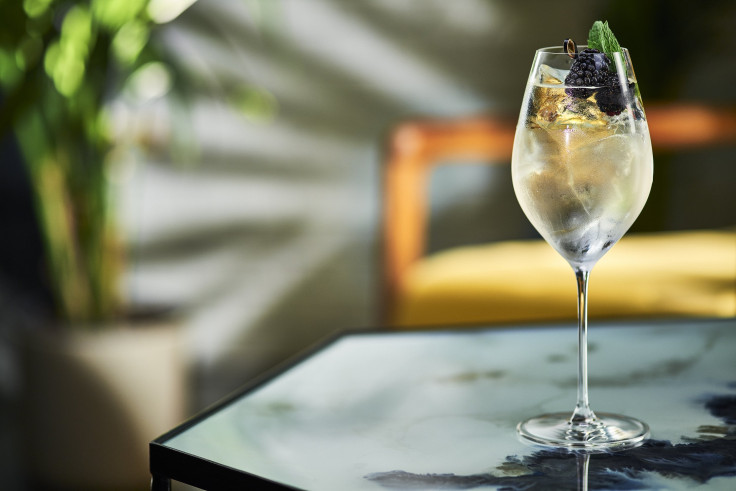 Ingredients:
1 ¼ oz. Belvedere Blackberry & Lemongrass
¼ oz. Dry Vermouth
1 TSP Honey Water
2 oz. Dry Sparkling Wine
2 Fresh Blackberries
Sprig of Mint
Directions:
Add all of the ingredients into a Spritz glass over cubed ice and gently stir to combine the contents. Garnish the beverage with fresh blackberries and a sprig of mint.
Silver Sands Punch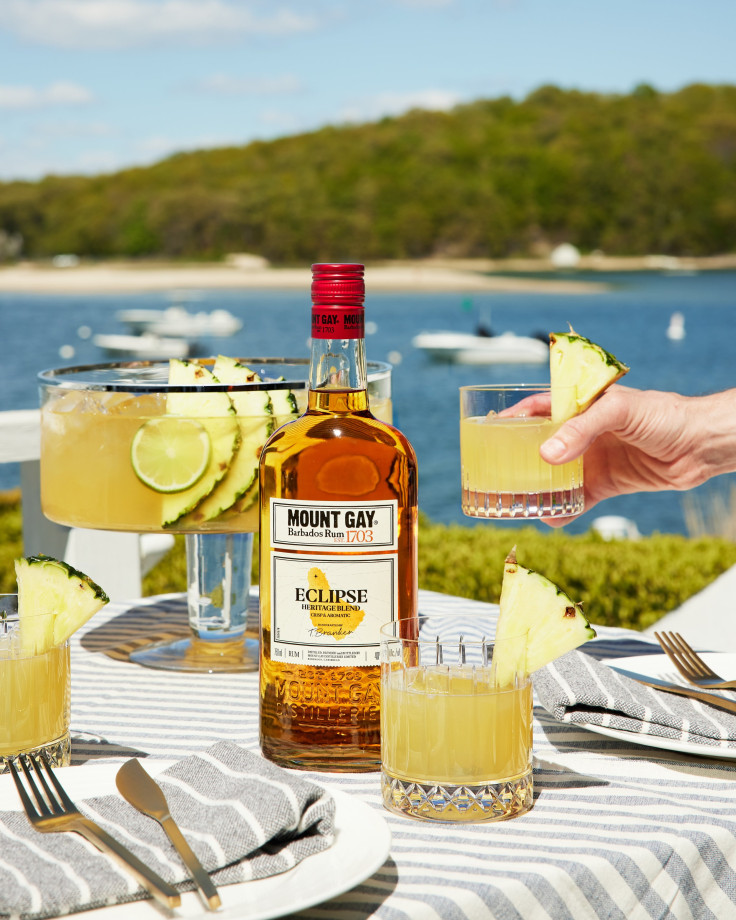 Ingredients:
2 oz. Mount Gay Eclipse
¼ oz. Cointreau
1 oz. Pineapple Cinnamon Syrup*
1½ oz. Brut Champagne
Pineapple Cinnamon Syrup Ingredients:
1½ Cup water
1 Cup sugar
3 Cinnamon sticks – cracked
1 One-inch slices ginger
1 Lemon peel
1 Pineapple – core removed, cut into chunks
Add all of the ingredients, except for the pineapple, to a pot and bring it to a boil. Then add the pineapple and allow it to simmer until the fruit is just translucent. Press the pineapple to release juices and strain out solids. Allow the mixture to cool.
Directions:
Place all of the ingredients, except for the champagne, into a cocktail shaker and shake it until it's chilled. Strain the contents into a rocks glass over ice. Top the cocktail with champagne and stir it to incorporate.
Cocktail Bonus: Bartesian - Premium Cocktails on Demand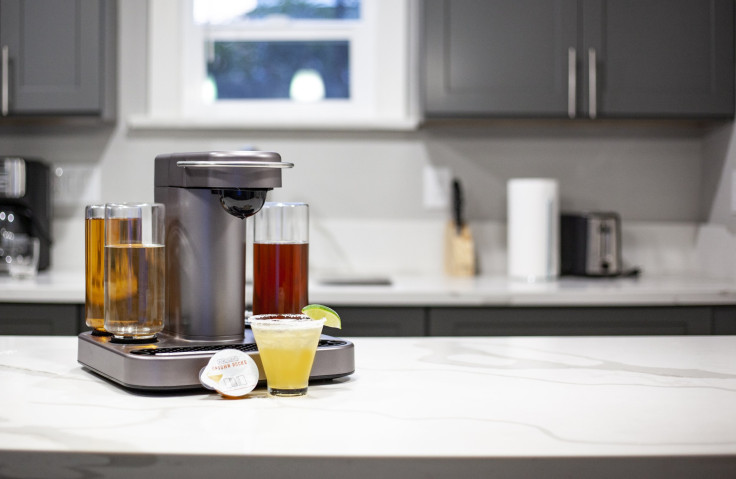 If your lacking skills in the bartending department or ran out of time to gather ingredients, Bartesian is the answer to your Labor Day cocktails prayers and beyond.
The Bartesian is a home cocktail machine that allows users to make premium cocktails in the comfort of their homes. All you need to provide is the base spirits, Vodka, Tequila, Whisky, Gin or Rum, and water.
Next, simply insert a cocktail capsule, which is made up of real juices, extracts, and bitters. Then select the strength of the drink, ranging from mocktail to strong, to easily make your favorite cocktail.
With the touch of a button the Bartesian will read the capsule barcode, use the appropriate spirit to blend the cocktail ingredients, and dispense a tasty cocktail in seconds.
Bartesian offers a variety of capsules cocktails, including whiskey sour, cosmopolitan, Long Island iced tea, gimlet, margarita, rum breeze, and more.
© Copyright IBTimes 2023. All rights reserved.
FOLLOW MORE IBT NEWS ON THE BELOW CHANNELS