Lacey Chabert's 'Pride, Prejudice, And Mistletoe' Hallmark Premiere: Movie Trailer, Cast
Hallmark Channel's 2018 Countdown to Christmas continues with "Pride, Prejudice, and Mistletoe," a brand new holiday flick starring Lacey Chabert and Brendan Penny.
Having started with Hallmark Christmas movies in 2012 with "Matchmaker Santa" and starring in new ones almost every year since, Chabert's become a staple in people's lives during Christmas time. She's not the only one, though. This will be Penny's third Hallmark Christmas flick, with his first one being 2015's "'Tis the Season for Love."
In their new one for 2018, "Pride, Prejudice, and Mistletoe," financial advisor Darcy Fitzwilliam (Chabert) heads home to visit her family for the holidays. Once she gets there, her mom, Gloria (Sherry Miller), almost immediately enlists her help in putting together a Christmas gala. Later, Darcy meets up with her friend Caylee (Anna Hardwick), who dishes on the new guy in her life, Jim Bennett (Mark Wiebe). That name sounds familiar to Darcy, and she quickly realizes he's the brother of her former high school debate club adversary, Luke Bennett (Penny).
"Darcy is surprised to learn her mother has hired Luke to both cater the gala and help Darcy plan it," the synopsis shares. "Darcy begrudgingly accepts Luke's help, and the two prepare for the event together. While with Luke, Darcy runs into Carl (Morgan David Jones), a former boyfriend who works for Darcy's father. Having only recently separated, Carl still holds a candle for Darcy and seeing her with Luke creates instant jealousy."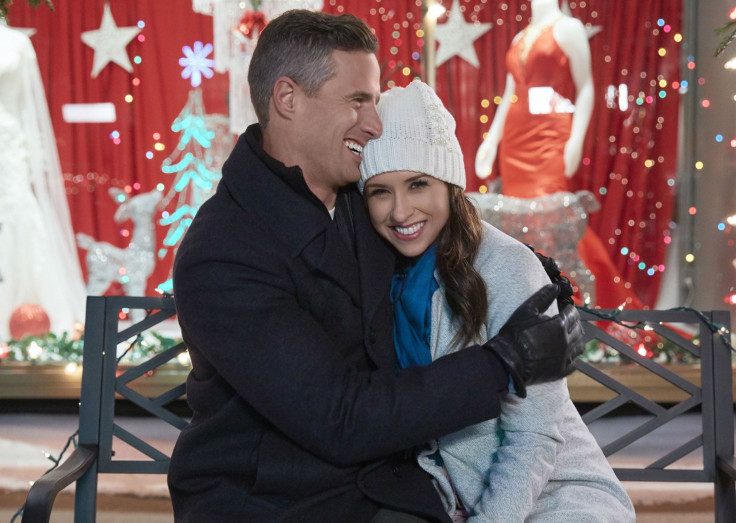 Sparks fly for Darcy and Luke, though, at Caylee's white elephant party when the two find themselves under a mistletoe. But instead of kissing, the two have a debate, much like they did in high school.
"Darcy's brother, Parker (Steve Belford), arrives home and announces that he and his wife are having a baby," the synopsis continues. "Darcy confesses that sometimes she wonders if her work really makes her happy, but keeps this from her father Edward (Art Hindle), who always tries to convince her to move back home and take over the family business."
Matters are only made worse when she discovers her business partners are trying to poach her clients while she's gone. Darcy works through her client list to ensure everyone stays with her, especially her top client.
"Darcy and Luke become close, and Luke shares that he always planned to open a restaurant with his dad before he passed away," the synopsis says. "Darcy helps him name this restaurant passion project. Spending time with Luke makes Darcy happier than she's been in a while, and closer to making decisions about whether or not her separation from Carl is permanent and whether she wants to return to her job in the city."
All of Darcy's questions are answered on the night of the gala. Although there are some issues with the actual event and with her personal life, she figures out a way to fix it all and make some decisions.
"Pride, Prejudice, and Mistletoe" debuts on Hallmark Channel on Friday at 8 p.m. EST.
© Copyright IBTimes 2023. All rights reserved.