Lady Gaga: India Tour Wins Over Bollywood, May Inspire Charity Foundation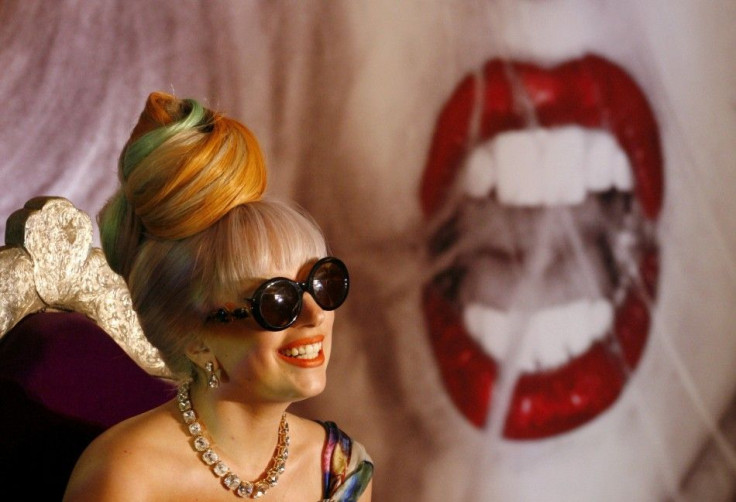 Lady Gaga has taken India by storm, as Bollywood stars like Shah Rukh Khan and fans like her Desi Monsters join local newspapers and business moguls in adoration over the singer's performance at the F1 after-party, her words of praise for the Indian people, and her unexpected skill with the sitar.
The global superstar, known for her showmanship and provocative creativity, made her first concert appearance in India last week, and took the opportunity to express her love for the country, its people, and its traditions.
Namaste India! Lady Gaga said in her first Indian press conference, set in New Delhi on Oct. 28. I have always wanted to come to this beautiful country for a very long time, and finally it's possible.
Gaga spoke about her inspiration for her most recent album, Born This Way, before moving on to her thoughts on reincarnation, education, and the importance of family.
Lady Gaga ended the press conference by expressing her wish to visit India again soon, in order to perform for the thousands if not millions of loyal fans she has in the Southeast Asian country.
More than the place, the thing that makes this country so beautiful is its people, Lady Gaga said. I want to thank you all for your love and support!
India Goes Gaga
If Lady Gaga sees India as more than a country, India sees Gaga as much more than a singer. The superstar was presented with an official plaque for the Double Platinum status of previous albums The Fame and The Fame Monster. Born This Way is already certified gold in India.
And for those who assume India may be too conservative to embrace Gaga's eccentricities, the songstress's visit has put all doubts to rest. Gaga's performance at her press conference had local papers describing her as elegant and regal, and The Times of India called her thoughts on religion and family everything that resonates with Indian people of today and yesterday.
Her Desi Monsters, meanwhile, were out in full force, many dressed like the great Lady herself in her various otherworldly costumes.
Gaga didn't disappoint them. As a special treat for Indian fans, the international pop sensation played both the piano and the traditional sitar during her performance at the after-party of the Formula One Grand Prix Race, the first Indian Grand Prix and the beginning of a shift in motorsport racing to the East.
Gaga played atop a 20,000 sq. foot platform at the Jaypee Green Golf and Spa Resort in Greater Noida, joining other acts like heavy metal band Metallica.
Gaga's performance was delightful, said a teenager who managed to get into the ritzy, star-studded event. She was high on energy and the audience was extremely excited about it.
The party, hosted by Bollywood actor Arjun Rampal, was packed with actors, producers, and industrialists, with tickers costing 40,000 rupees ($819.43) each. Shah Rukh Khan, Anil Kapoor, Preity Zinta, Sonam Kapoor, and Deepika Padukone were among the guests, according to IBN Live.
SRK: She's very deep, very sweet.
One Bollywood star in particular, Shah Rukh Khan, came away very impressed (and somewhat star-struck) by Gaga's presence in India.
Khan had wanted to collaborate with Gaga for a song on his new film, box-office smash RA.One. Though the plans never materialized, Khan still got a chance to talk with Gaga before and during the F1 after-party, congratulating her on her first visit to India.
It [our conversation] was very nice, Shah Rukh Khan told NDTV. She was very sweet. I sat with her for a couple of hours and exchanged a lot of good things about life.
Khan, 45, had become a Gaga fan thanks to his daughter Suhana, 11. My daughter is a big fan of Lady Gaga. She listens to her music and introduced me, and I am also a fan of her now, the Bollywood heartthrob said.
He was not, however, prepared for what a moving conversation he would have with the international pop star. She [Lady Gaga] is very deep, Shah Rukh said, repeating: very sweet.
F1 Race to Possible Charity
Shah Rukh Khan also took the interview opportunity to promote the Formula One Grand Prix. The actor fly straight from Toronto, Canada to watch the first F1 motorcross race in India on Oct 30, and loved it.
It was very noisy, very energetic, highly energizing and very well-organized, he said, adding that he is proud of the event: I think we should all celebrate the fact that we had such a big event here.
Others, celebrities among them, were less pleased about the F1 races, especially in Greater Noida, an area known more for its disparity of wealth than for the $400 million Buddha International Circuit on the periphery of Indian capital New Delhi.
But Lady Gaga, as always, seems to be in both camps at once, while somehow never showing up in the middle. The singer spent almost all he free time visiting two orphanages in the city, and managed to get three hours at each to give music lessons to the children.
Building on her experiences in India, a source reports that Lady Gaga is considering opening a foundation for disadvantaged kids, having used her free time to learn more about Indian children's homes.
Gaga would one day like to set up a foundation to help children, and now her career has really taken off, she feels as if it's the right time to do something, the source claims. She isn't the type of celebrity who just throws cash at things though. She wants to research it all properly and do something huge.
She knows it will be a massive amount of work but she wants to start by getting involved in some orphanages that already exist and devote some of her time and money to helping them.
According to the Sun, Lady Gaga also spent time off from performances (and away from Taylor Kinney) exploring stalls in New Delhi, coming away with some ten bags of cloth, jewelry, and other accessories. Looks like the lettuce dress may have been inspiring; hopefully, we can look forward to Indian-influenced music and costumes from the chameleon-like megastar.
© Copyright IBTimes 2022. All rights reserved.
FOLLOW MORE IBT NEWS ON THE BELOW CHANNELS