Lakeview Bus Accident: Vehicle Crashes Into New York Overpass, Roof Torn [Video]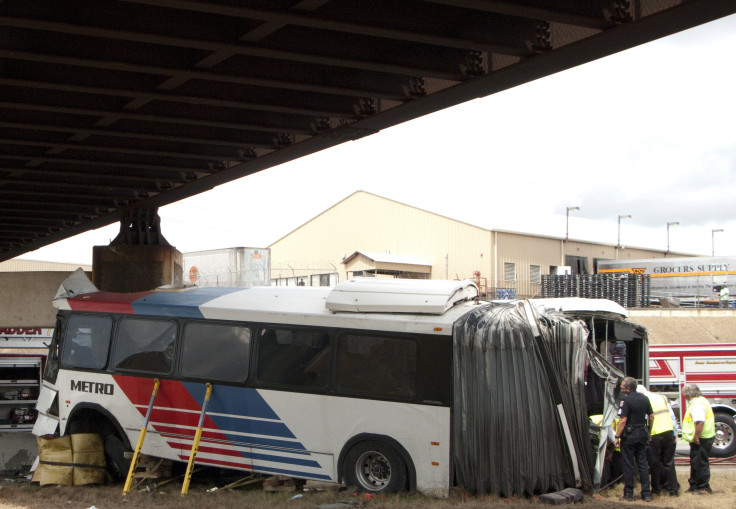 Update: 12:20 a.m. EDT Monday - According to latest reports, the bus which crashed into an overpass on Southern State Parkway, outside of Lakeview, New York, was carrying 38 students from multiple high schools on Long Island, New York, and five chaperones at the time of the incident, Newsday reported.
"Everybody was able to walk out except one, which we extricated," Lakeview Fire Department chief Patrick McNeill said. "There was glass everywhere. The roof of the bus is down to the top of the seat covers."
The crash left six people seriously injured and 37 passengers with minor injuries. They were sent to five different hospitals around the area within half an hour of alerting emergency services, McNeill confirmed. The driver of the bus, who appeared to be unfamiliar with the restrictions on commercial vehicles on the Southern State Parkway, was being evaluated at the scene. The overpass that the vehicle collided with was the lowest one on the highway.
Original story:
A bus crashed into an overpass on the highway outside of Lakeview, New York, on Sunday. The bus was carrying "dozens" of high school students at the time, who were on their way from the airport to Walt Whitman Shopping Center to meet their parents.
The incident took place around 9:30 p.m. EDT, Sunday, between Exit 18 and Peninsula Boulevard in Hempstead, on Southern State Parkway, forcing traffic police to initially close down all lanes on both directions near the crash site.
The Twitter page of Nassau County Traffic Management later updated the information, stating only the westbound lanes were blocked.
A video of the site shows the roof of the bus sheared off. It was not immediately clear how many students were inside the vehicle when the incident happened and if anyone was injured.
Multiple ambulances rushed to the scene shortly after the accident. Both adult and teenage passengers were seen standing near the crash site, wrapped in blankets as the emergency service crews examined the wreckage, according to the Republic.
Commercial vehicles are not allowed on the Southern State Parkway. Newsday reported in December 2017 that an electronic system was going to be laid in place to warn truck and bus drivers if their vehicles were too high to fit under a parkway overpass. The police will be alerted if any of vehicles illegally trip the system. The system was already in place in the Northern State Parkway.
This is a developing story.
© Copyright IBTimes 2023. All rights reserved.