Lane Bryant 'I'm No Angel' Campaign: Plus Size Brand Takes On Victoria's Secret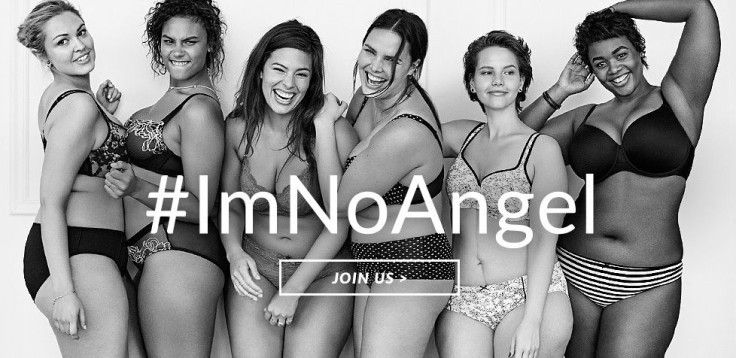 Marketing a product requires differentiating yourself from the competition. Plus-size brand Lane Bryant, which caters to sizes 14-28, is rolling out its new lingerie line, Cacique, with the not-so-subtle anti-Victoria's Secret tag, #ImNoAngel, to suggest the lingerie brand doesn't represent most body types.
"Our #ImNoAngel campaign is designed to empower ALL women to love every part of herself," Lane Bryant CEO and President Linda Heasley said in a statement, Racked reported. "Lane Bryant firmly believes that she is sexy and we want to encourage her to confidently show it, in her own way."
The #ImNoAngel ad is visually similar to last year's Victoria's Secret ad that inspired a chastising Change.org petition from England asking the company to remove it. In the criticized Victoria's Secret ad, size 0 and size 2 lingerie-clad models stand in a line under the tagline, "The Perfect Body."
The petition asked Victoria's Secret to apologize and to "take responsibility for the unhealthy and damaging message that their wording 'The Perfect Body' sends out to society about women's bodies and how they should be judged." It worked; the wording on the ads were changed to, "A body for every body."
The Victoria's Secret body is difficult to get and keep even for the models themselves. Every year, articles abound on the punishing diet and fitness routines the models or "angels" endure to get ready for their annual runway show.
© Copyright IBTimes 2023. All rights reserved.