LAPD Cop Who Repeatedly Punched Homeless Man Charged With Felony Assault
KEY POINTS
The LAPD officer accused of repeatedly punching a homeless man has been charged
Frank Hernandez was charged with one felony count of assault under color of authority
The incident was caught on video after Hernandez and his partner responded to a trespassing call
The Los Angeles police officer who was caught on video repeatedly punching a homeless man in April has been charged with felony assault.
Los Angeles County District Attorney Jackie Lacey said in a news release Tuesday that 49-year-old Frank Hernandez was charged with one felony count of assault under color of authority following the incident on April 27.
"This is a disturbing case of the illegal use of force at the hands of a police officer. In this case, we believe the force was neither legally necessary nor reasonable," Lacey said in a statement.
The charge stemmed after Hernandez, a member of the LAPD for more than 20 years, and his partner responded to a trespassing call at a vacant lot in Boyle Heights. The Los Angeles Times said that they confronted a homeless man who had set up a tent in a lot near a local church.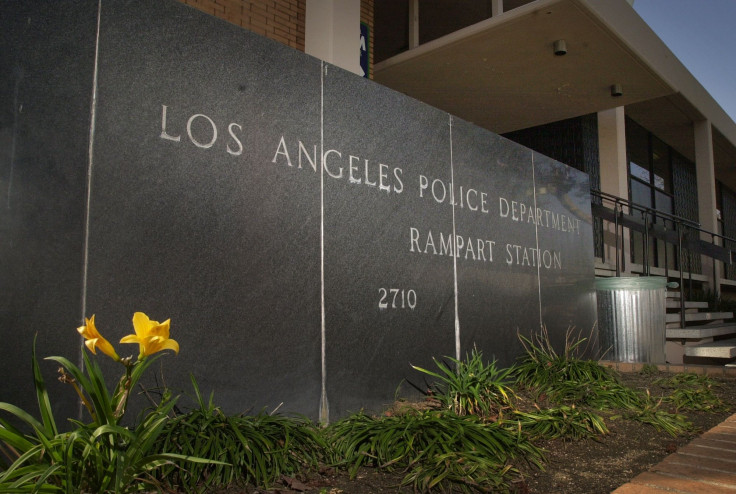 "During a confrontation between police and the victim, Hernandez is accused of illegally punching the unarmed man more than a dozen times in the head, neck and body," prosecutors said in the news release.
While the video showed Hernandez's assault, it also depicted that the victim didn't appear to be resisting arrest and at one point, stumbled away from the officer.
The victim suffered abrasions but did not require hospitalization, said the Los Angeles Times.
NBC News meanwhile reported that Richard Castillo filed a lawsuit against the city and members of the LAPD last month and alleged that he was "violently" struck by a "male officer" during the incident.
Castillo's lawsuit pointed out that the officer "used close fists" to repeatedly strike him for more than 20 seconds. He also stated that a female officer "failed to intervene" and that the male officer also spat in his face.
The video heard the male officer said, "Don't fight. You're fighting, man." Castillo then replied, "Ain't nobody fighting." It was here that the male officer struck Castillo at the back of his head, while a female officer "stands by and does not appear to intervene," said NBC News in a separate report.
LAPD Chief Michel Moore ordered the body-cam footage of the incident to be released after the video sparked outrage, according to the Los Angeles Times.
"Any use of force, justified or not, is difficult to watch. But this one is disturbing," Moore said.
Hernandez's arraignment is scheduled for Thursday. If convicted, he could face a possible maximum sentence of three years behind bars.
© Copyright IBTimes 2022. All rights reserved.
FOLLOW MORE IBT NEWS ON THE BELOW CHANNELS