Laquan McDonald Protest: Demonstrators In Chicago Take To Streets Christmas Eve Over Shooting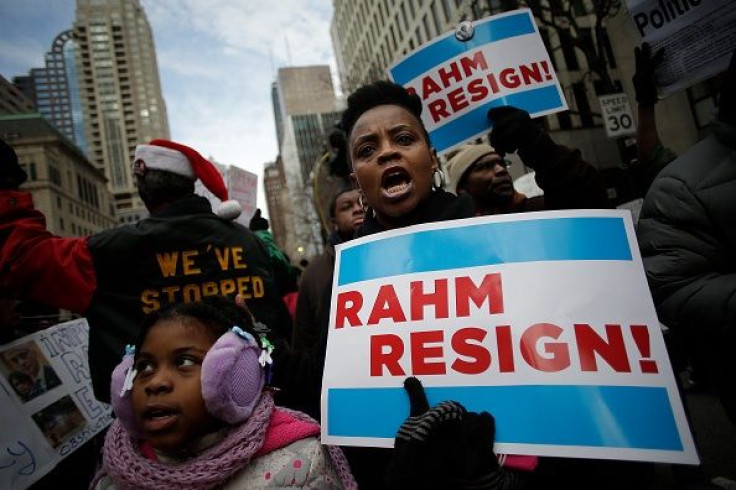 Less than a day after the release of radio calls about the fatal shooting of teenager Laquan McDonald by a Chicago police officer, demonstrators took to the streets of the city Thursday to protest the killing. The activists tried to disrupt last-minute shoppers hurrying to finish up their errands in time for Christmas Eve to pressure Chicago Mayor Rahm Emanuel to resign over the city's handling of the shooting and the release of the dashboard-camera video of the incident, WBBM-TV in Chicago reported.
In what has been dubbed "Black Christmas," about 100 protesters blocked traffic along Michigan Avenue, with plans to march up the Magnificent Mile, the city's toniest shopping district. Protesters sought to emulate a similar event on Black Friday, which forced many stores to close as about 1,000 protesters blocked store entrances.
"We need to have our issues exposed. They need to be out front. We need people to hear us the same way that Dr. King and those guys [did] when they were protesting. They went to places where people would be upset, would become uncomfortable, and therefore be heard," the Rev. Gregory Livingston, a member of the Coalition for a New Chicago, one of the groups organizing the event, told WBBM-TV. "And so, we're raising consciousness too."
McDonald, a black 17-year-old, died after being shot 16 times in October 2014 by Chicago Police Officer Jason Van Dyke. The video of the shooting by Van Dyke, who has been charged with murder, was ordered released in November and has created an uproar, forcing into the spotlight again how police do their jobs.
Signs could be seen Thursday reading "Who do you serve. What do you protect?" and "Rahm Must Go." Another sign seen in the crowd was a stop sign that was designed to say "Cops Stop Killing Us." Shoppers could be seen exiting stores during the protest, and police surrounded the demonstrators .
While a video of the shooting has been out for a month, audio of the radio calls of the shooting were released just this week, revealing a conversation about whether anybody had a stun gun to deal with McDonald, the Chicago Tribune reported. Four minutes after an officer asked if a Taser was around, McDonald was shot.
© Copyright IBTimes 2022. All rights reserved.
FOLLOW MORE IBT NEWS ON THE BELOW CHANNELS